High quality and reliability combined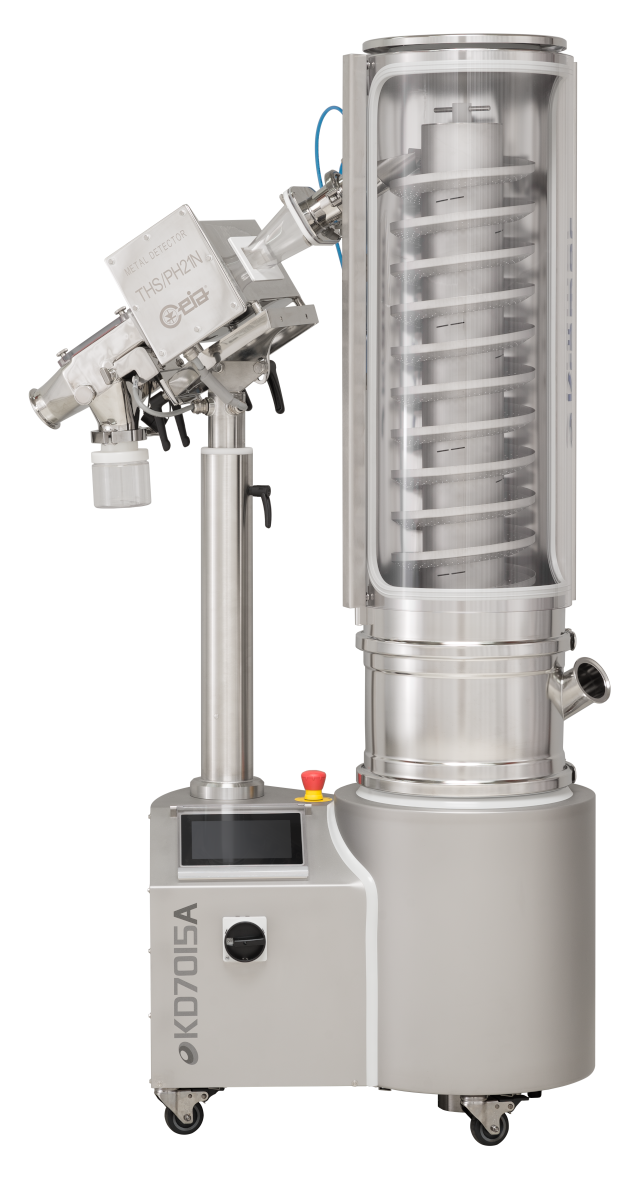 KD7015A
High performance tablet deduster with the latest technology combined with a metal detector by Ceia or Lock. Tablets are dedusted and conveyed with our unique acceleration control and helix in the most sensitive way.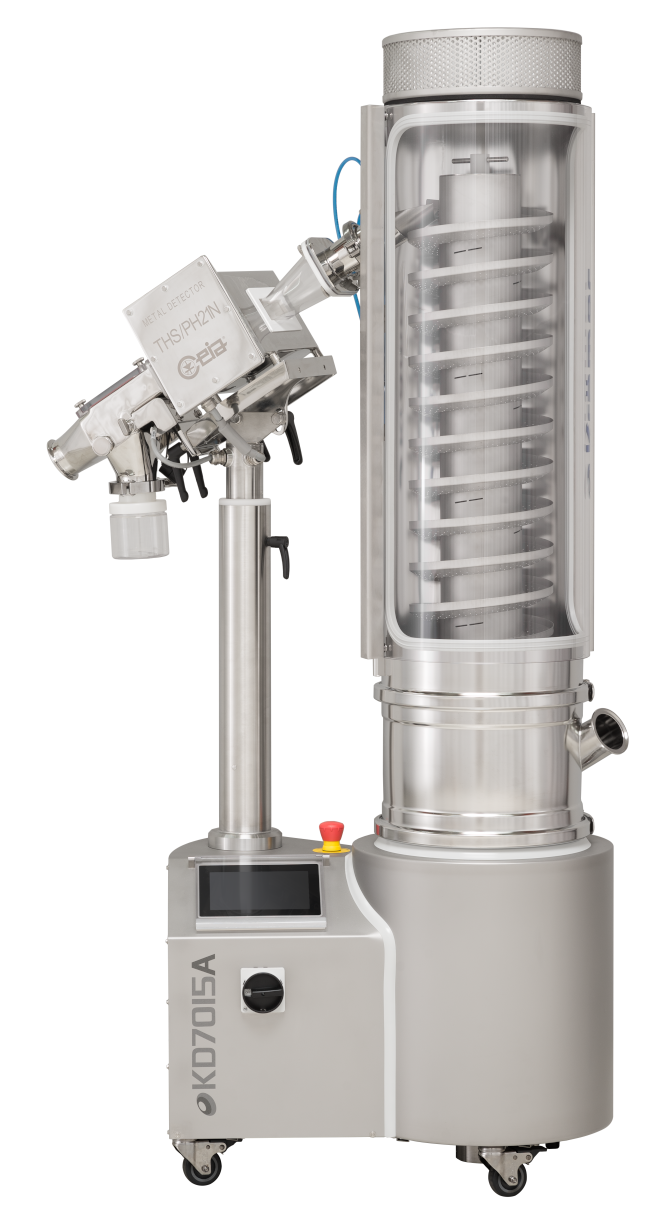 Upward conveying range of 250 to 1500 mm
Control of deduster, metal detector and diverter with one touch-screen
Dust-tight window
Quiet operation < 68 dB acoustic measurements
Featuring an acceleration sensor that assures constant vibration, independent of the load / amount of tablets in the deduster
Optimum viewing of tablet movement with pivoting and fully removable window
Easy height adjustment, full 360° freedom of rotation at tablet inlet
Vibration-free housing, patented drive unit
Compact design, minimum footprint
Easy assembly and disassembly, no tools are needed
Easy to clean
Classification: Atex Zone II 2D/- Db 140 °C
Certification: OEB4 (1 μg/m³ to < 10 μg/m³) acc. SMEPAC
Optional, HEPA filter M-class
Conveying heights
250-1500 mm
Available Metal Detectors
Ceia and Lock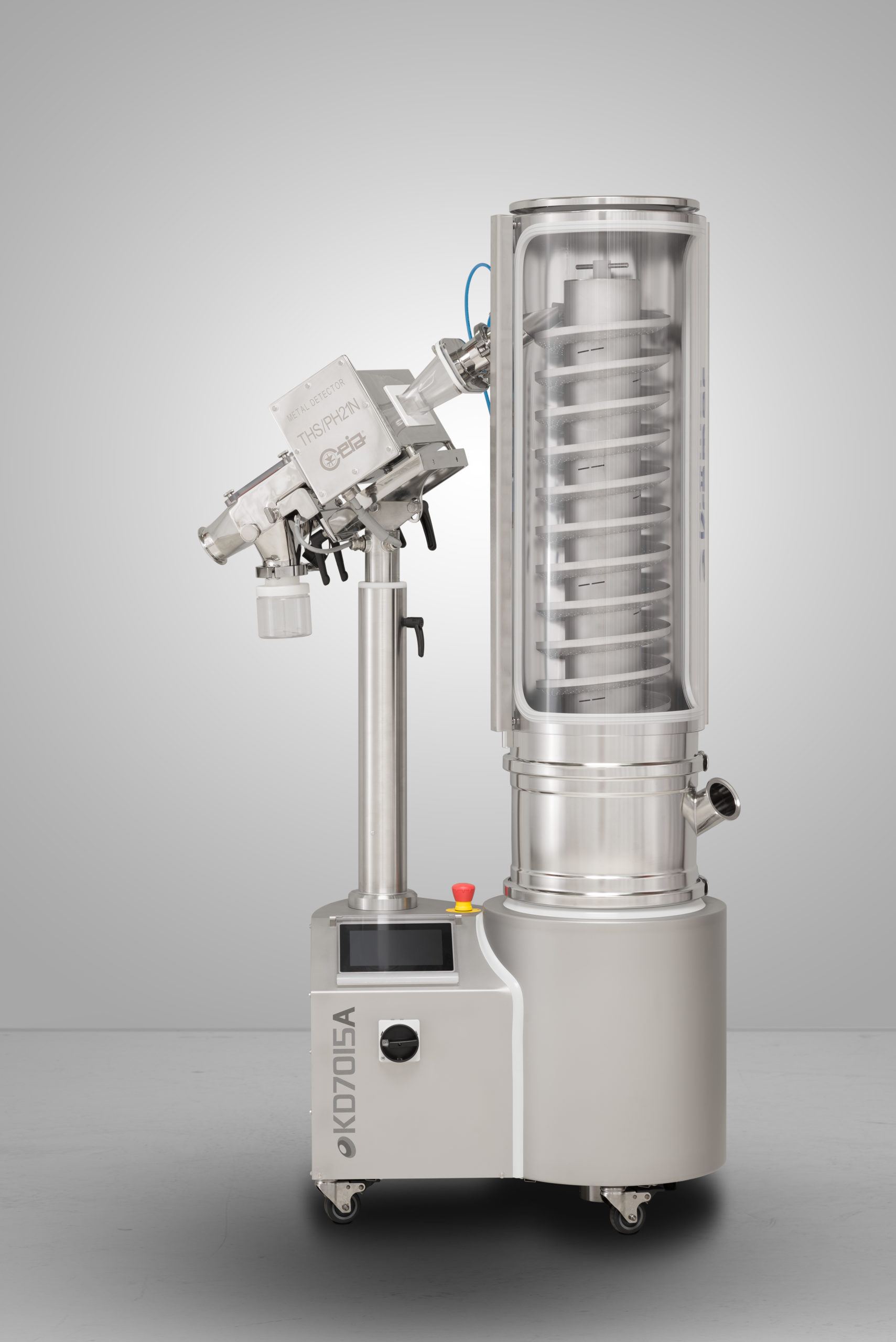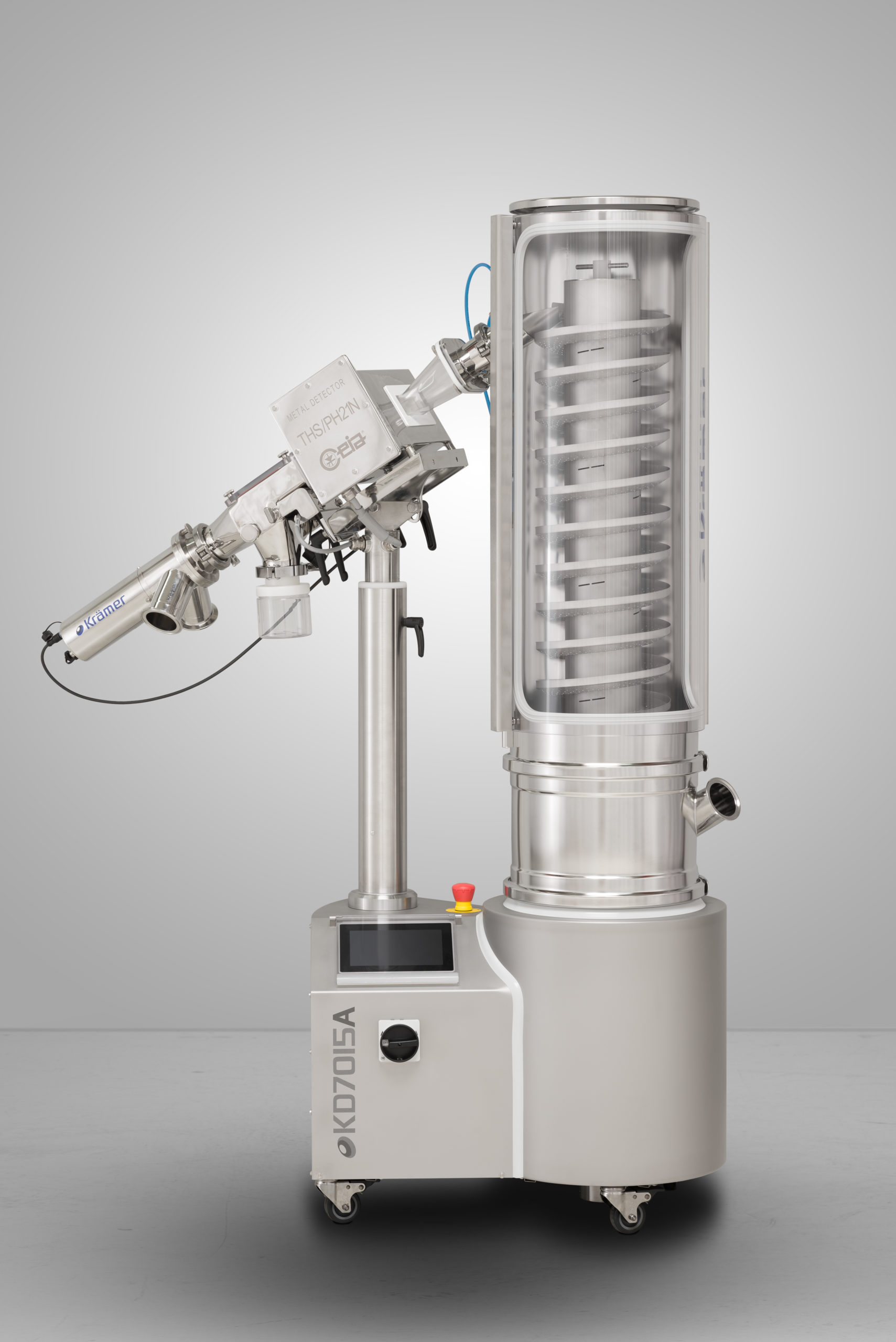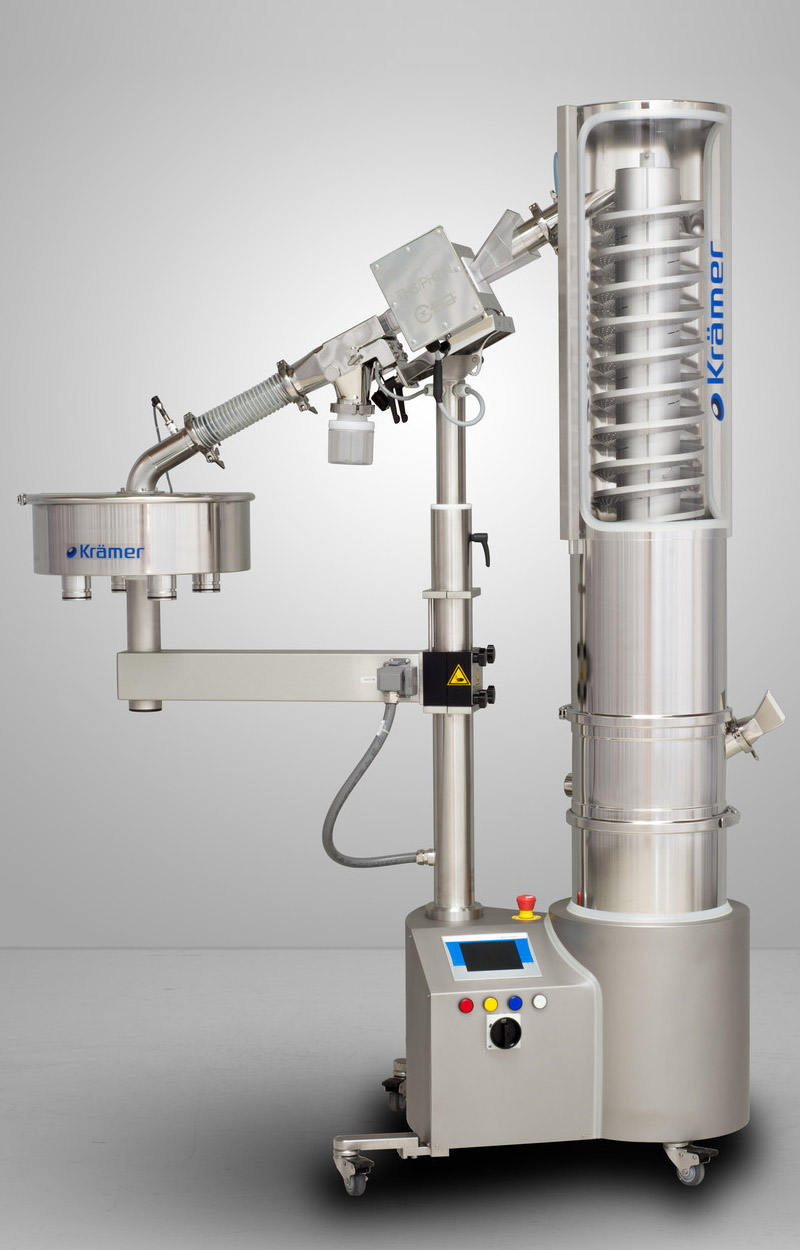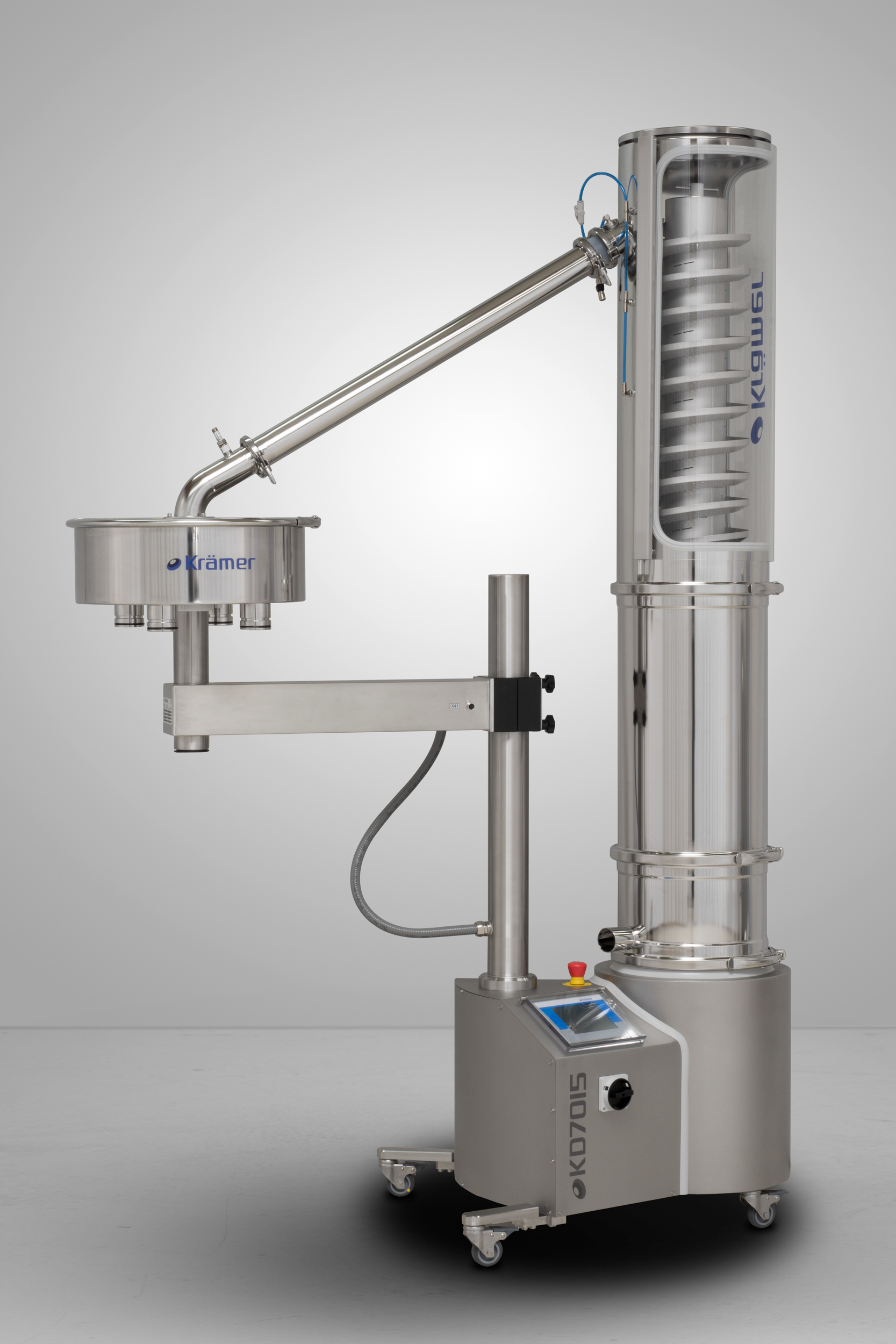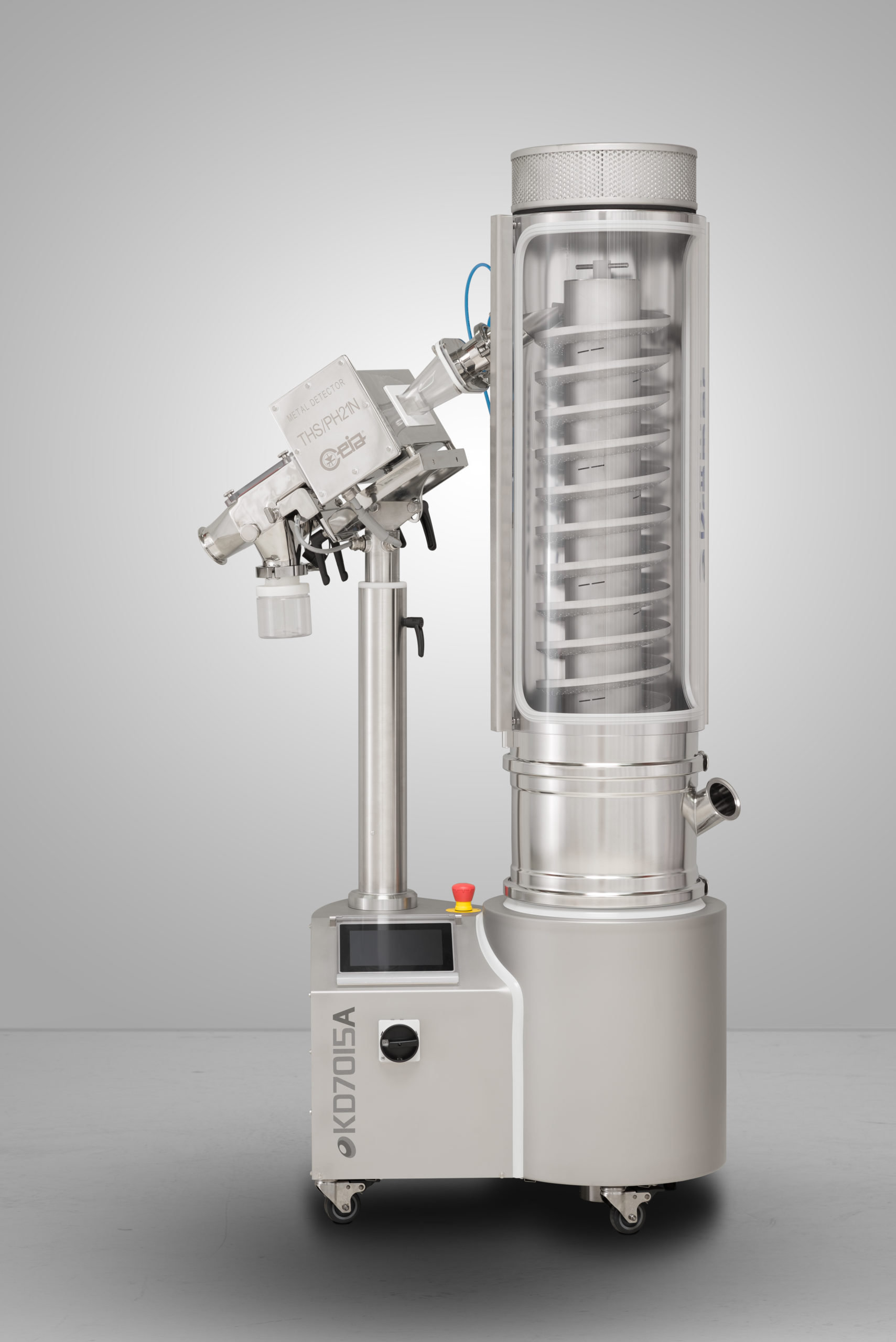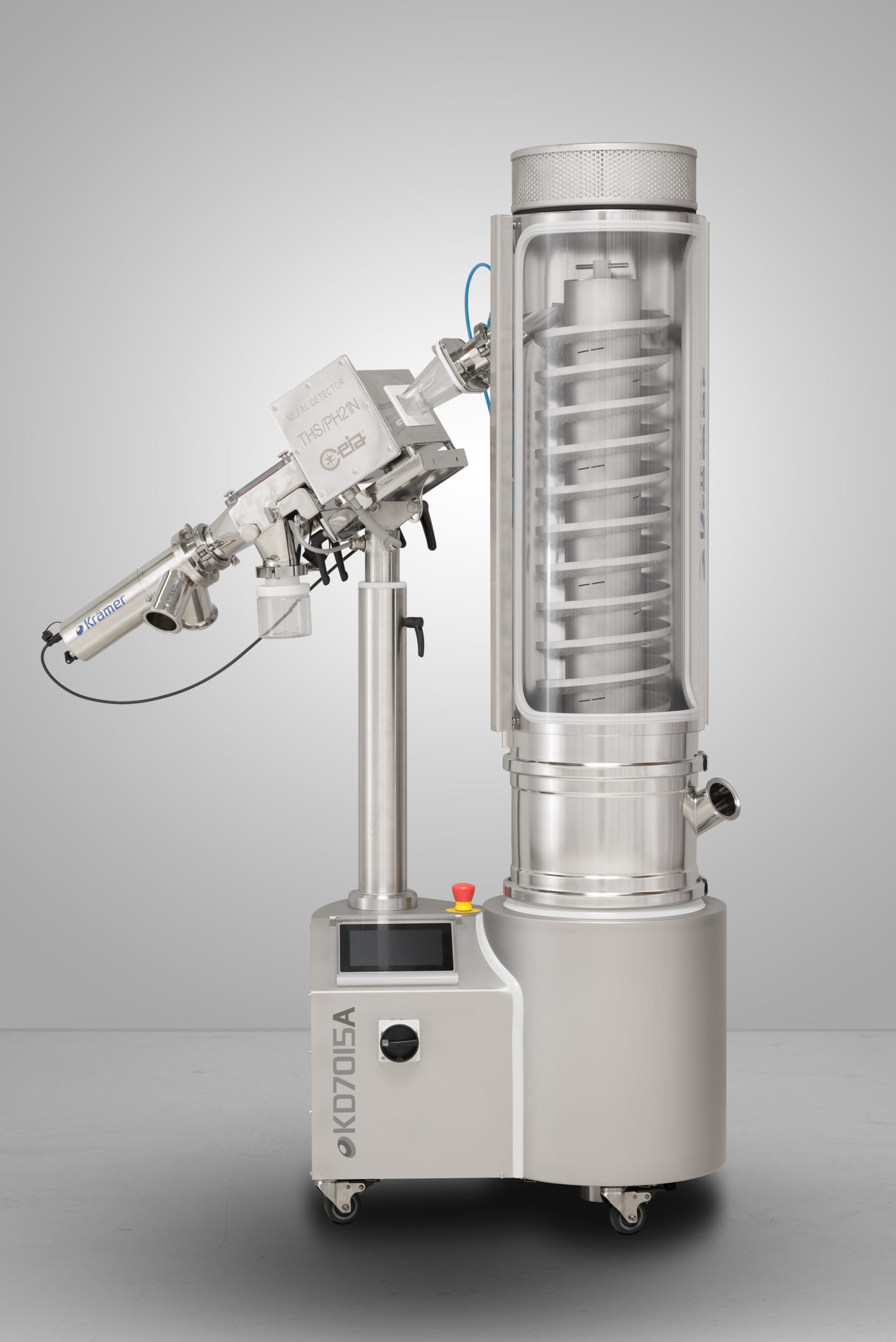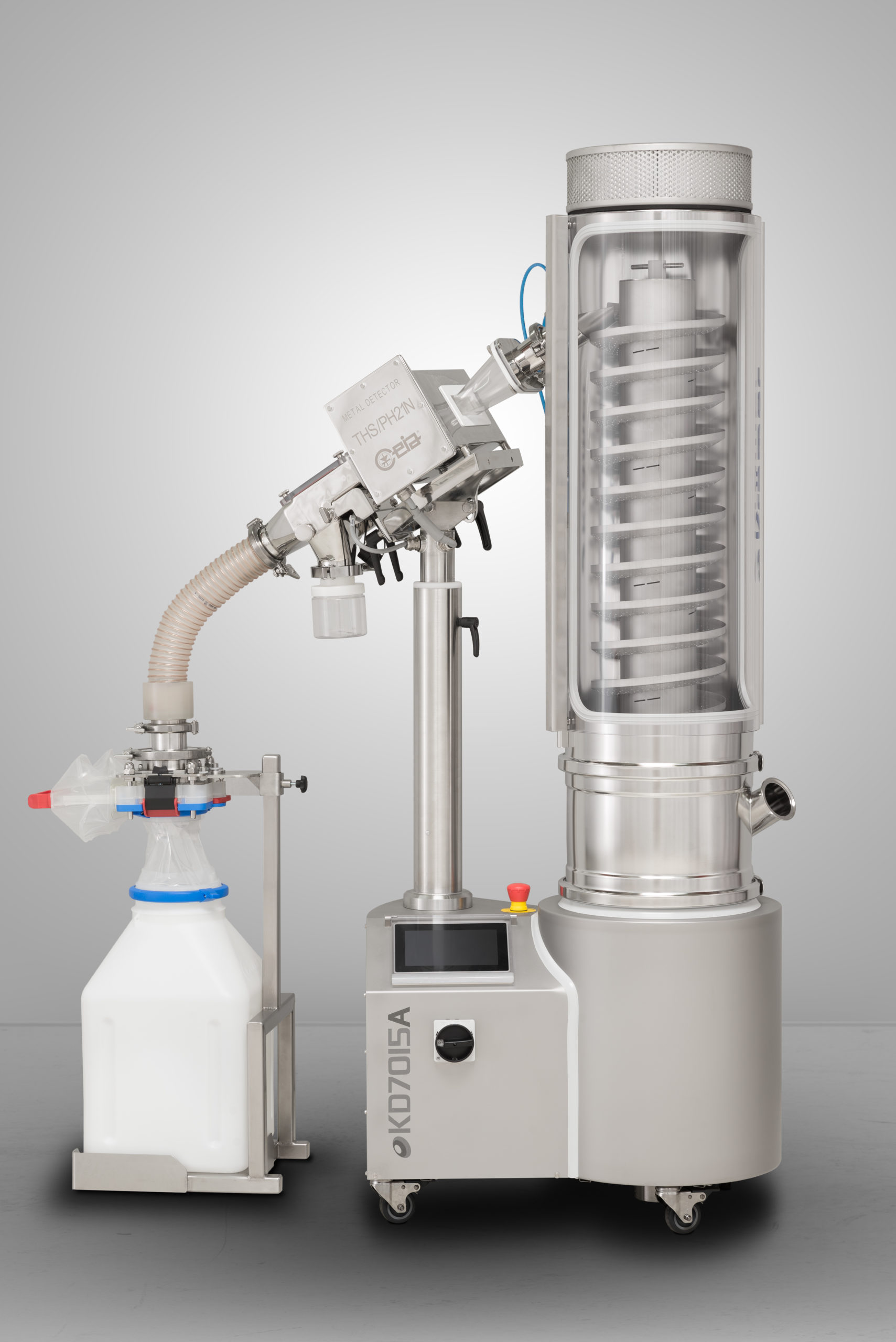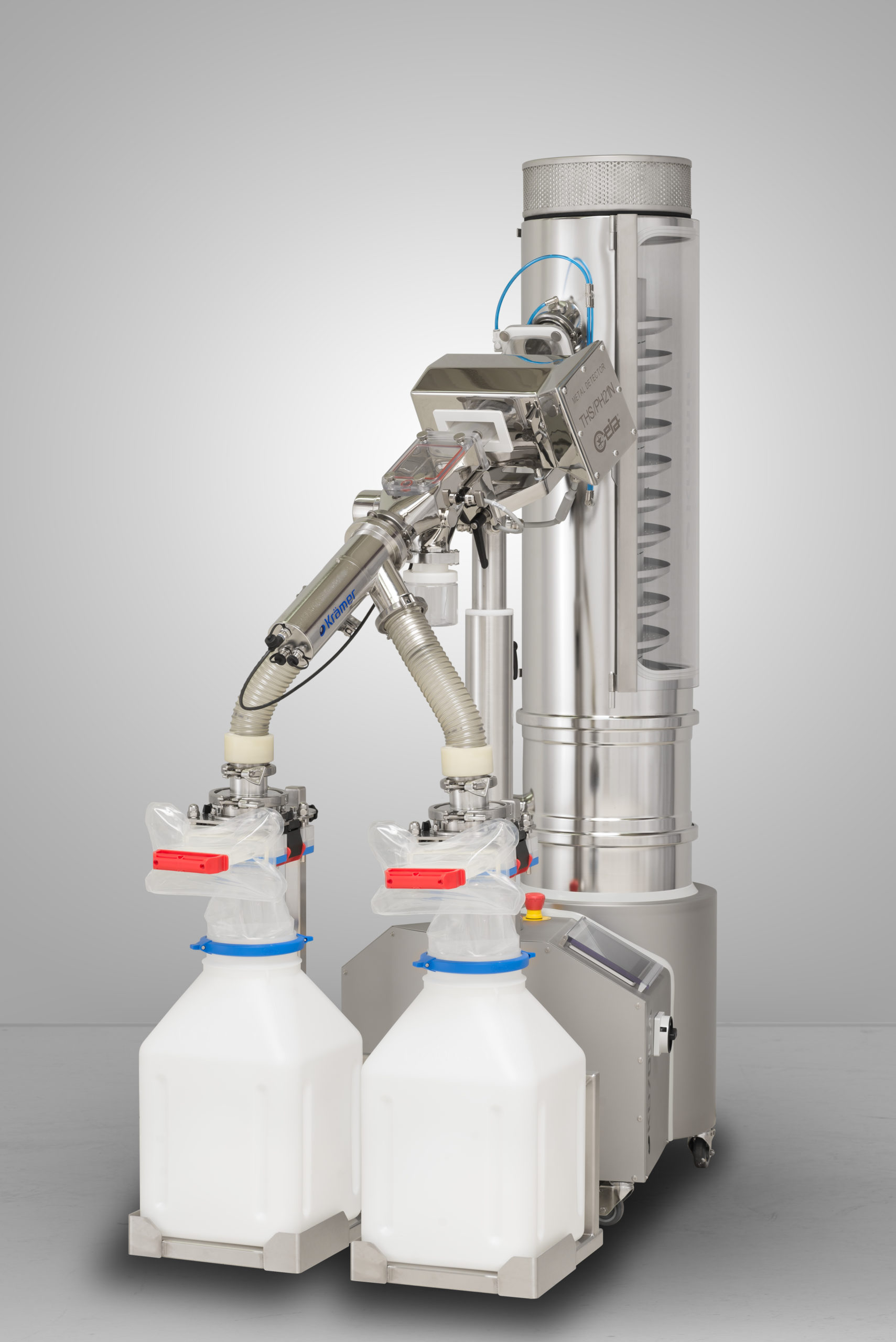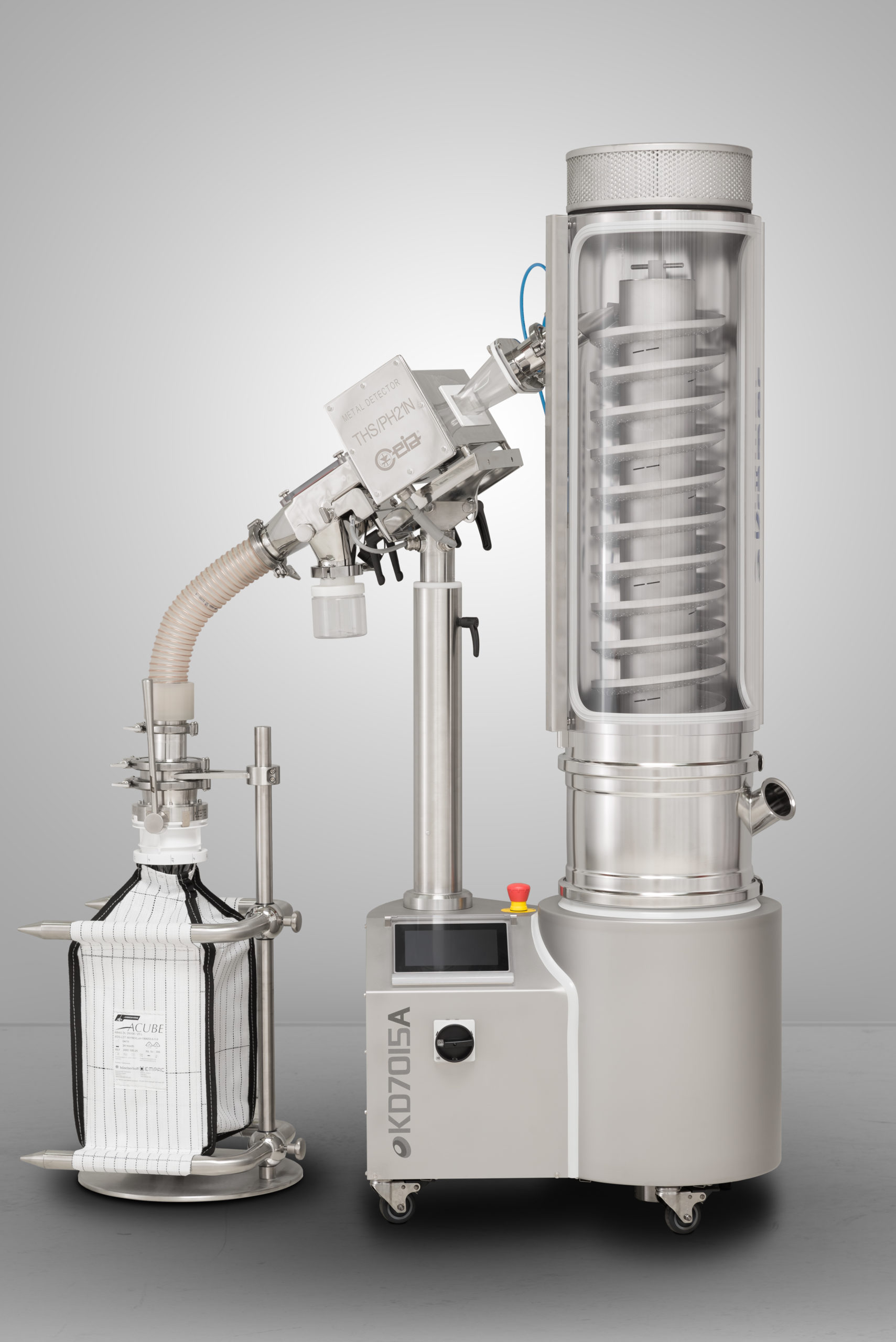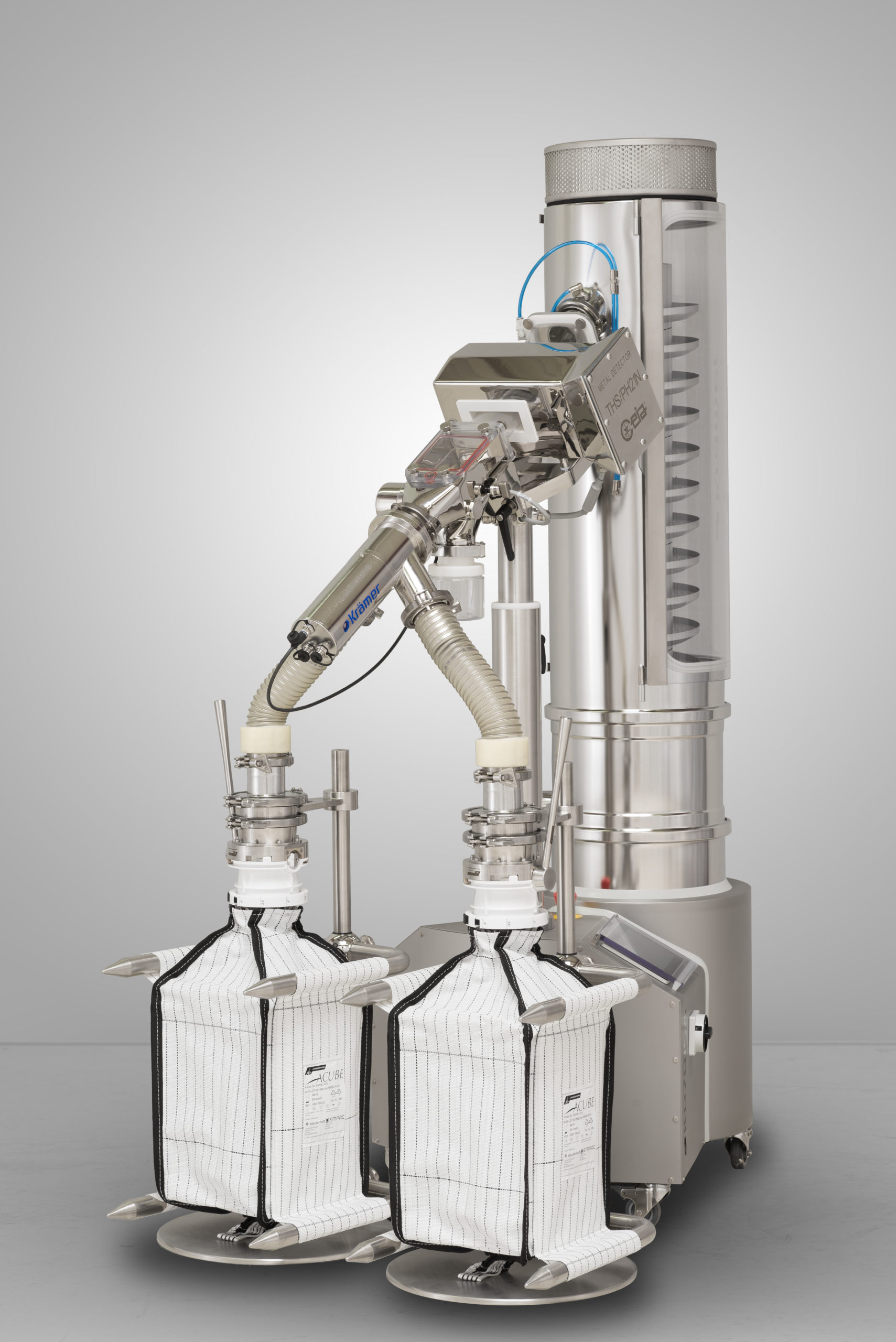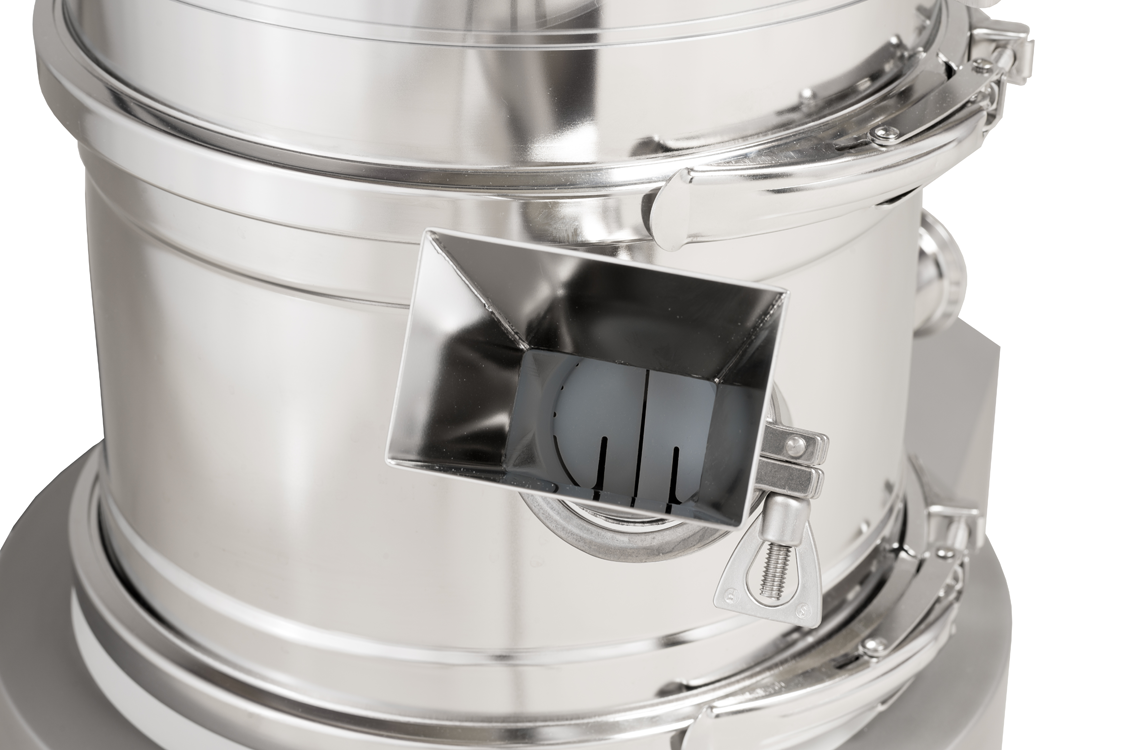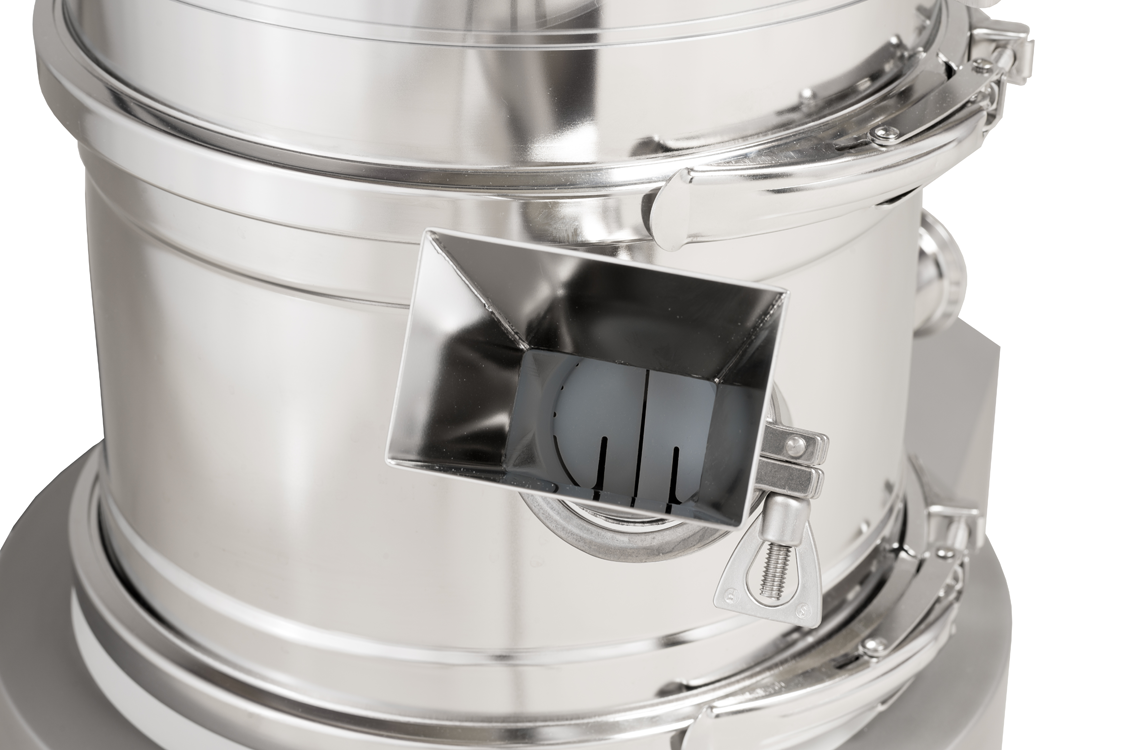 Tablet inlet Options
The optional tablet inlet adapter connection to the tablet press and upstream equipment with the use of a rectangular tablet inlet 110×70 mm. If the adapter is not being used, a hose can directly be attached to the Tri-Clamp inlet. The inlet can be rotated 360° independent of the outlet. With the use of optional inlet adapters, the deduster is easily adjustable to various tablet press discharge configurations.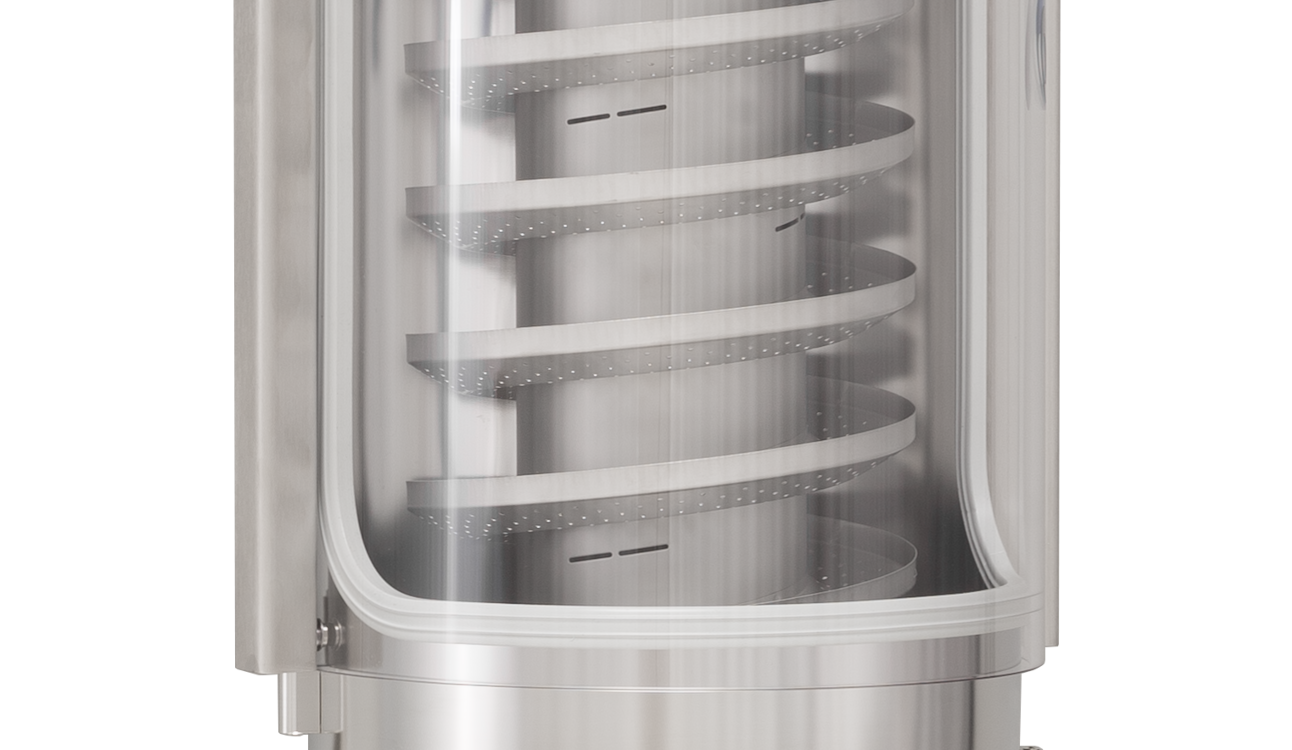 WINDOW FOR EASY VIEWING
The KD7015A and KD7035A dedusters feature a PETG dust tight, hinged, lift off window for easy viewing. The window is gasketed for dust tightness to meet OEB3 and OEB 4 hazardous dust requirements. The window allows easy access to interior of the machine for cleaning disassembly without removing the housing.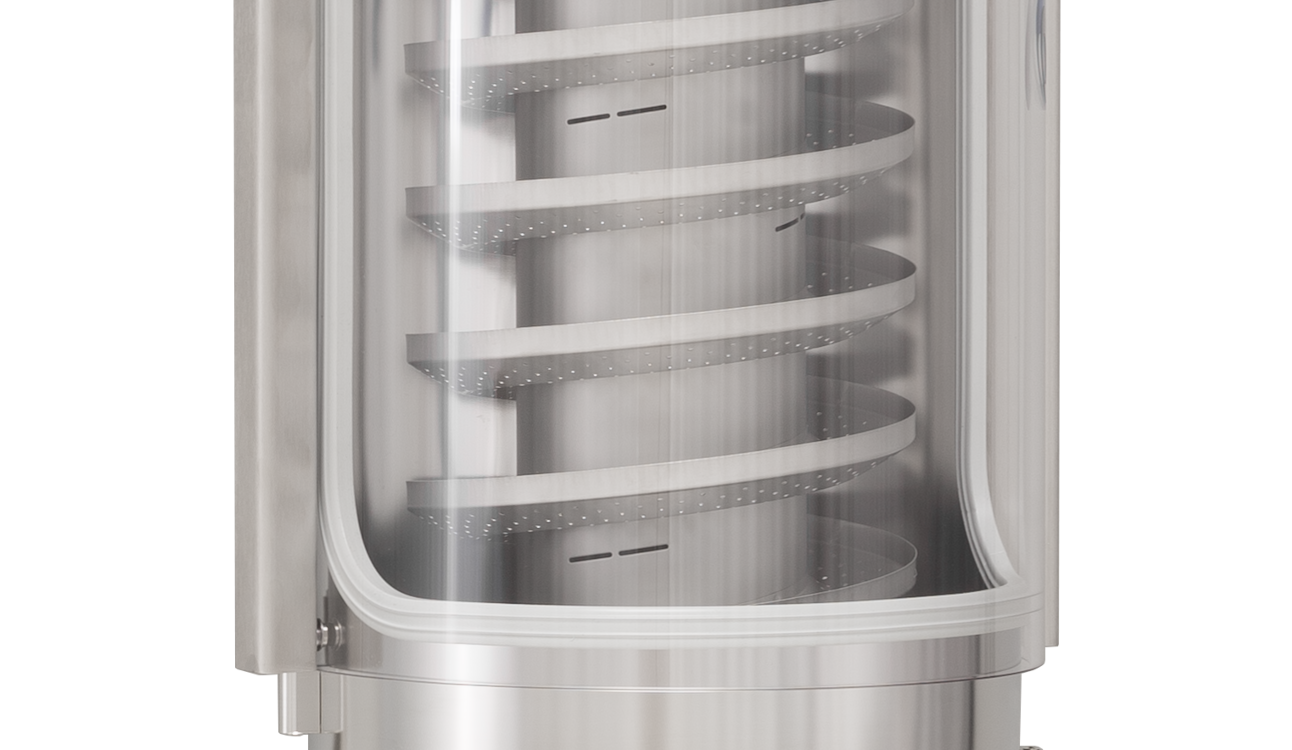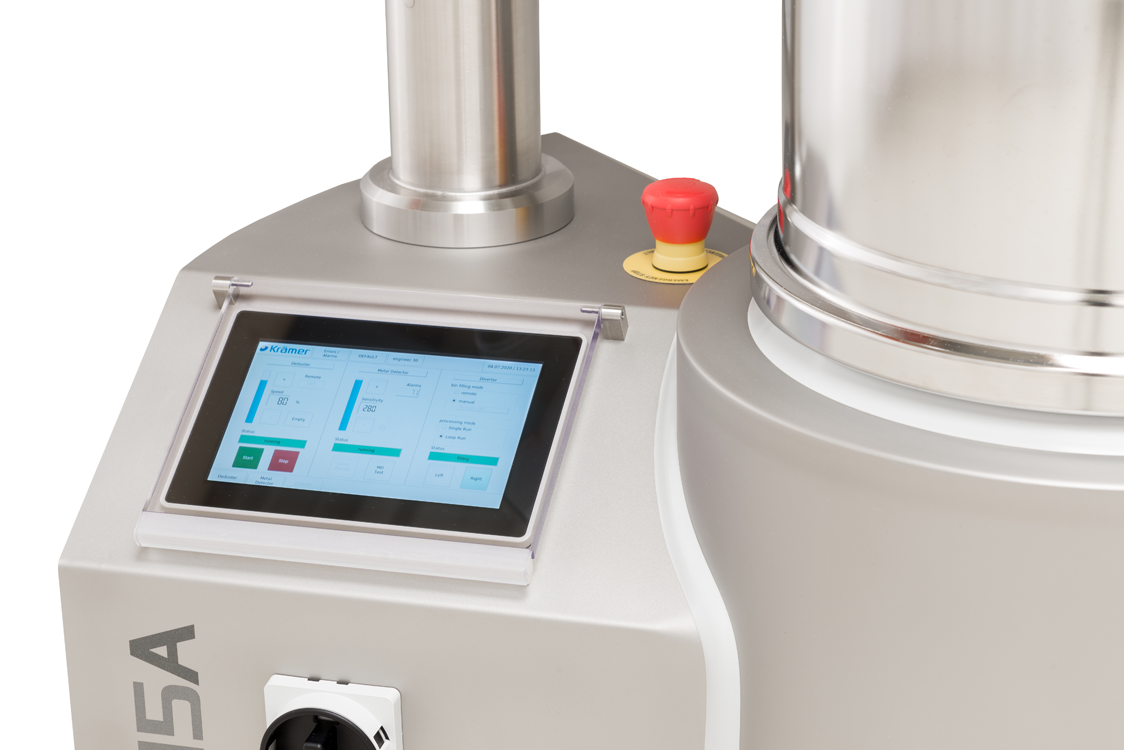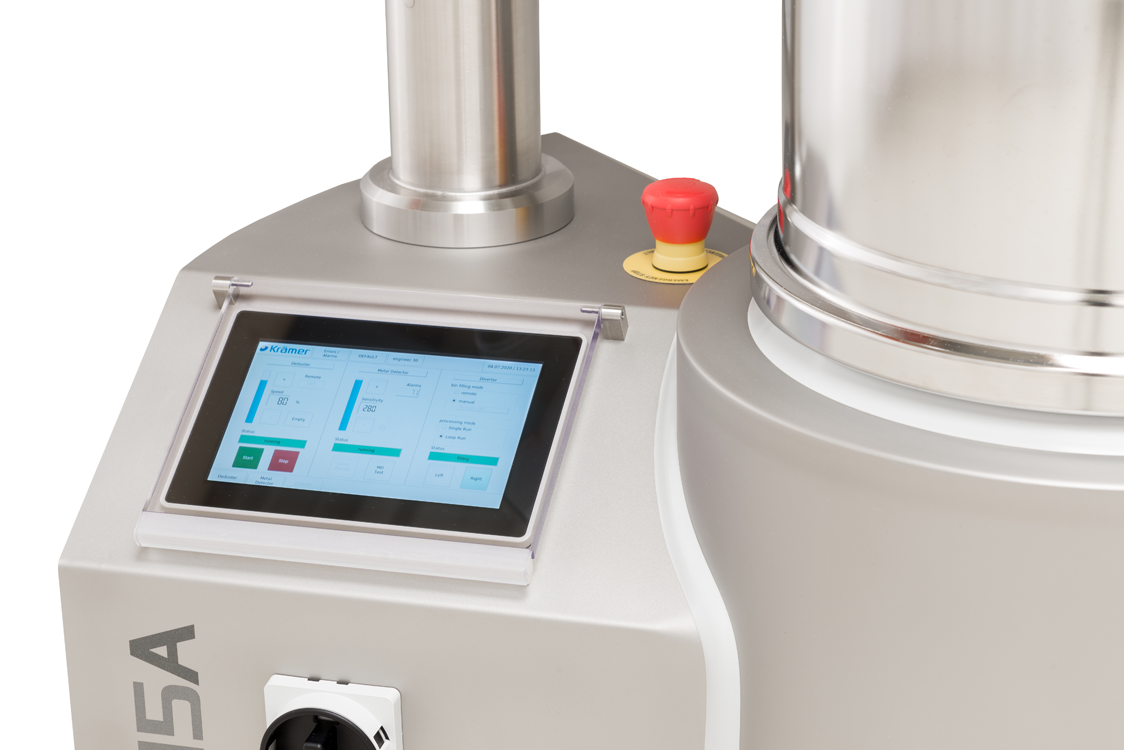 Touch screen operator panel
The KD70A Series combined units utilize the KC7070A touch screen controller that allows full control of the deduster, metal detector and diverter if used from the single touchscreen. The KC7070A controller operates with an acceleration sensor in the drive to determine the optimum operating frequency for ease of operation . It also displays the deduster, and metal detector standard operating settings and parameters in one location for ease of operation. It ensures also full compliance with 21 CFR Part 11, including user login, recipe- and user-management, audit trails for alarms and full logs during operation. A strong and durable transparent cover protects the touchscreen against falling objects or scratches.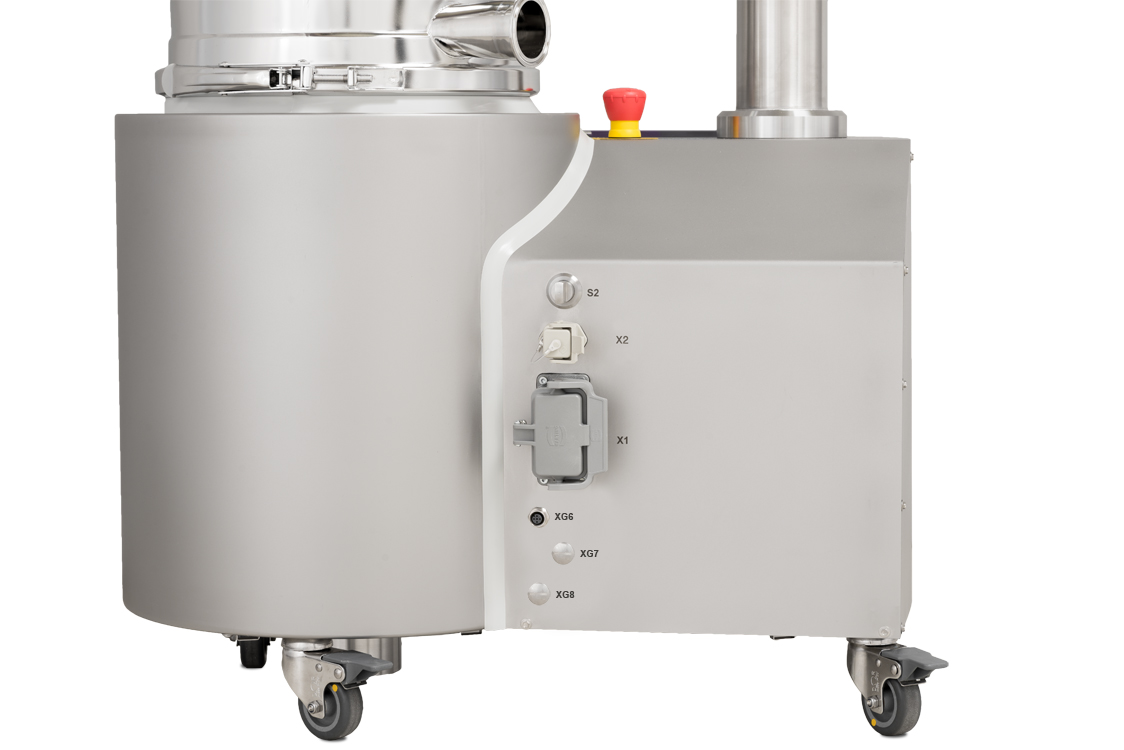 Utility Connection Ports
All Krämer dedusters feature a 2 inch Tri-Clamp vacuum dust collection port for ease of assembly of a dust collection hose. The height adjustment of the KD7015A and KD7035A dedusters are enclosed in the drive base housing along with all wiring for a clean arrangement. The base contains a lockable gas strut which allows easy vertical adjustment of the deduster to meet the press outlet height. All wiring is enclosed in the base for an uncluttered look and ease of cleaning. In addition, the power supply cable uses a quick connect plug. The quick connect plug allows for use of preassembled cables for power supply as well as signal wire options.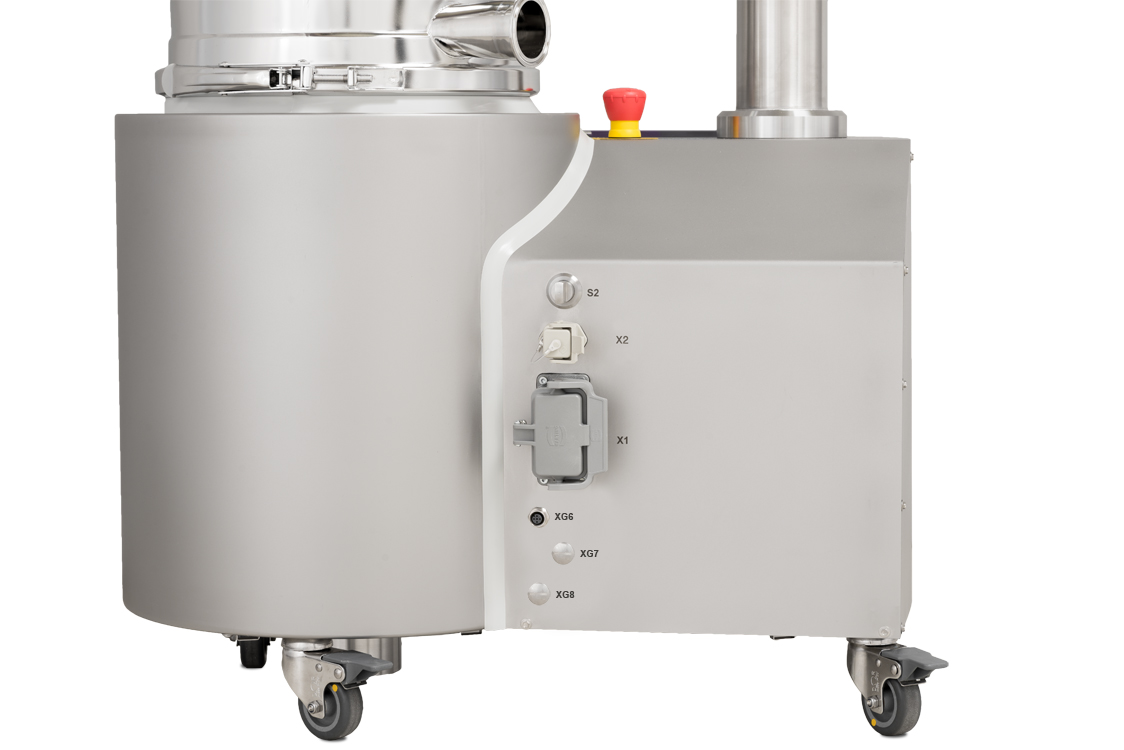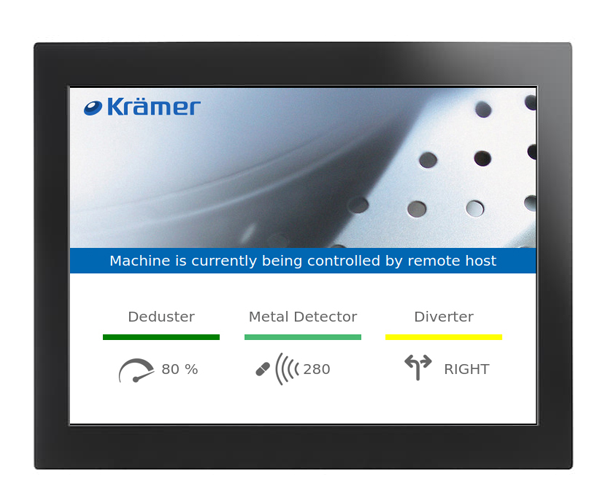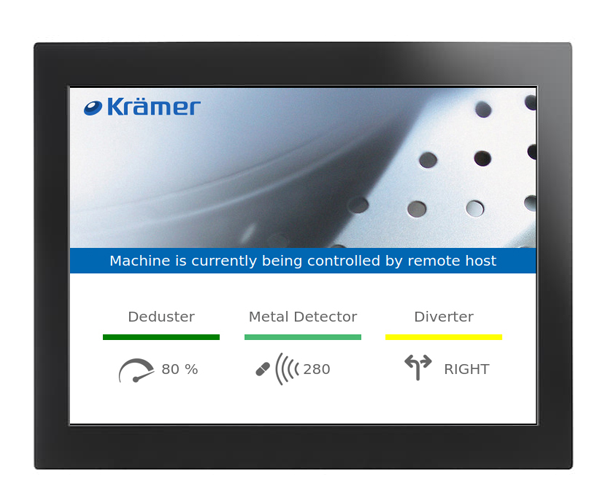 KC7070A – A Smart Control System
The KD7015A and KD7035A dedusters feature the new KC7070A controller with optional OPC UA machine to machine interface. This new communication protocol, between tablet press and deduster, makes it possible to exchange machine alarms, states and various dedusters functions over TCP/IP. The integrated VNC server allows remote access diagnostics from anywhere for trouble free support to minimize unscheduled downtime. This smart connect product is Industry 4.0 ready.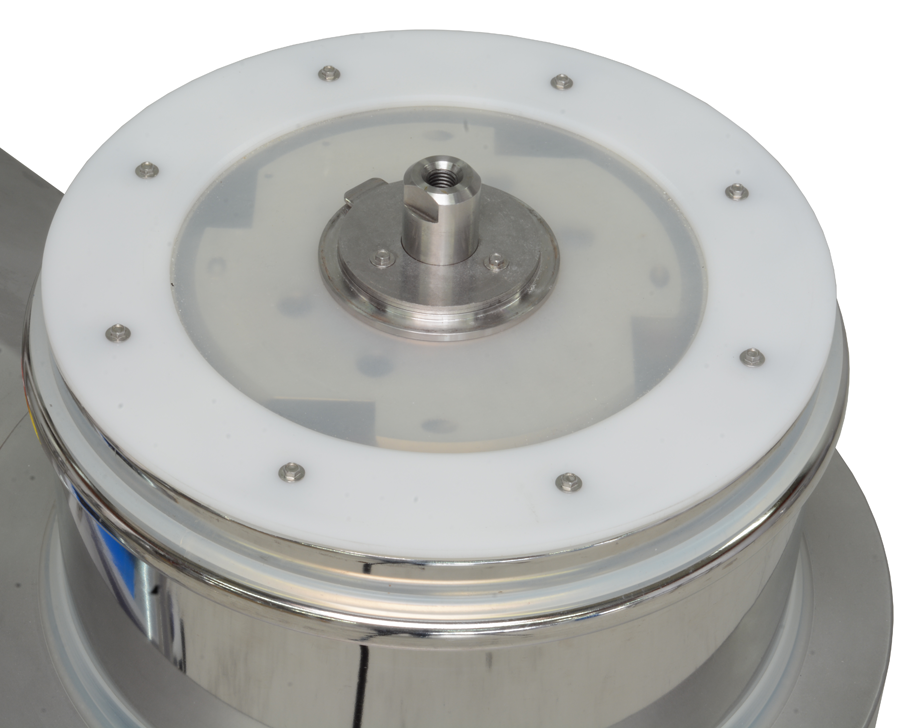 Dust tight seal membrane
The KD7015A and KD7035A deduster drives are protected from dust by a silicone membrane held down with a bolt down flange seal. The seal membrane protects all of the drive mechanical and electrical components from dust intrusion allowing for long trouble free operation and ease of maintenance.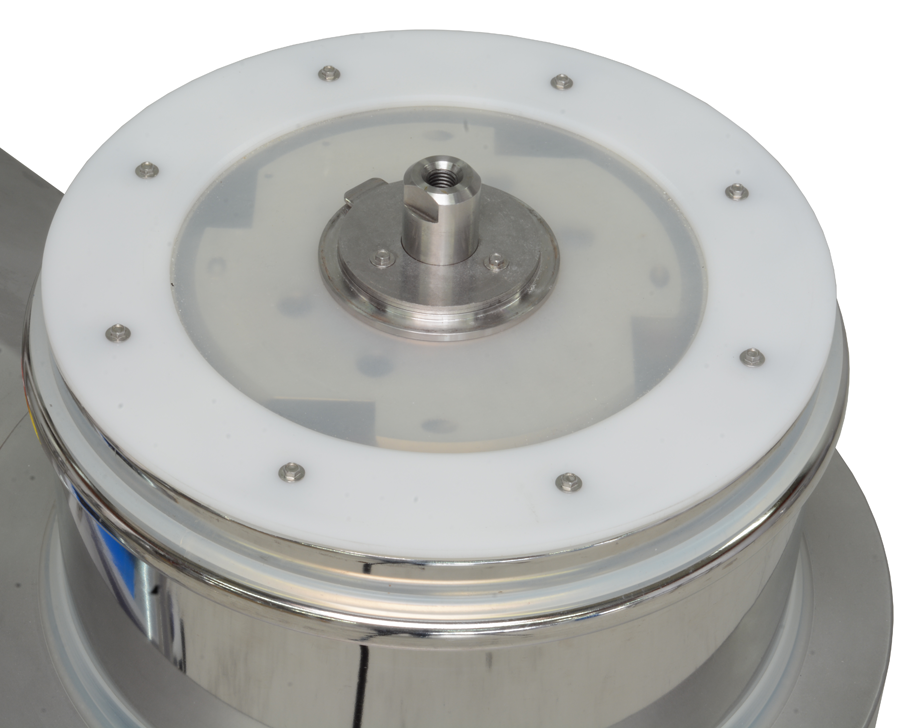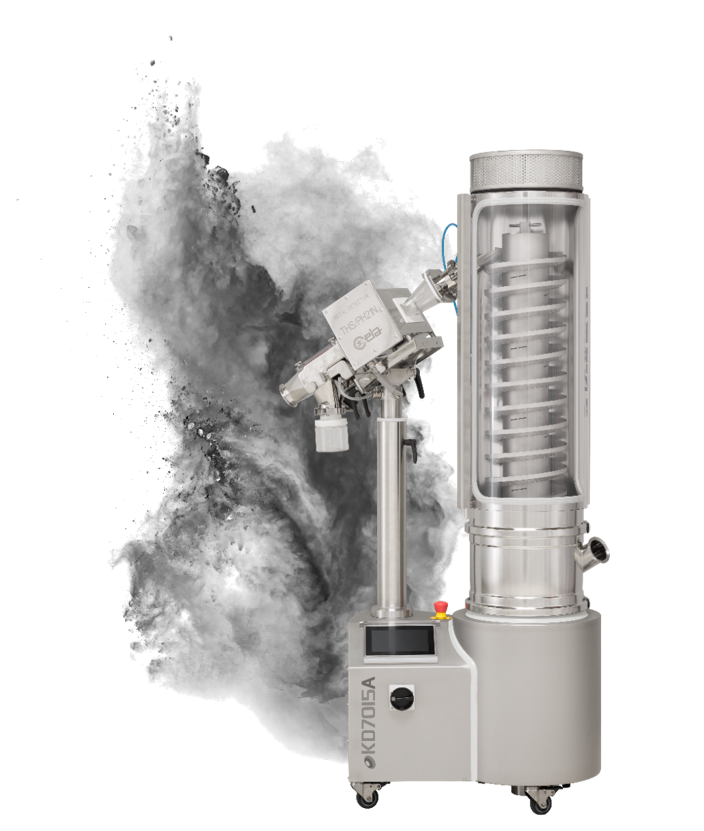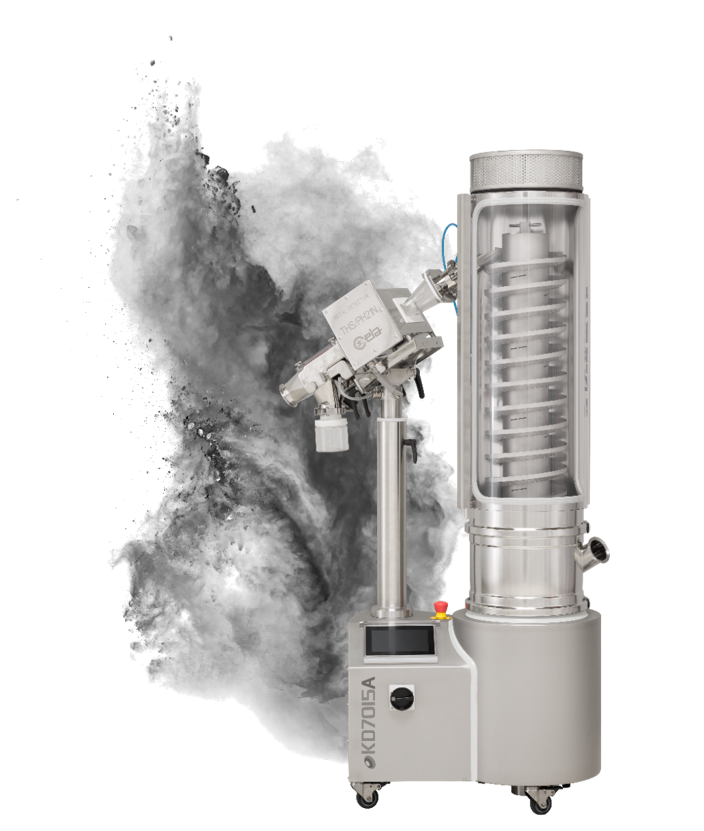 Containment and ATEX Performance
The KD7010 and KD7030 dedusters have been independently tested and certified to meet OEB 3 and OEB 4 containment levels in accordance with ISPE – SMEPAC requirements as well as the EC Machinery Directive 2006/42/EC and Directive 94/9/EC (ATEX-95).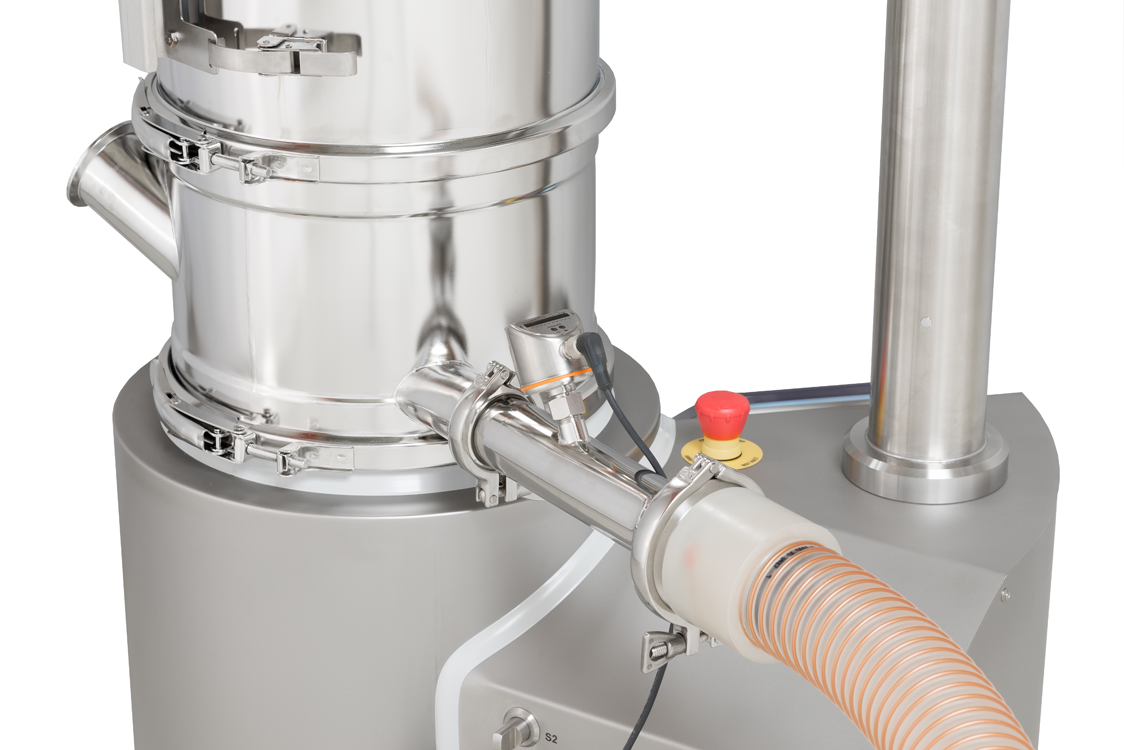 Dust collection Air flow sensor
The dust collection air flow sensor, an option on both models KD7015A and KD7035A, allows for monitoring the dust collection suction for confirmation that suction is correct. If suction is lost or not in the proper range an alarm will be triggered.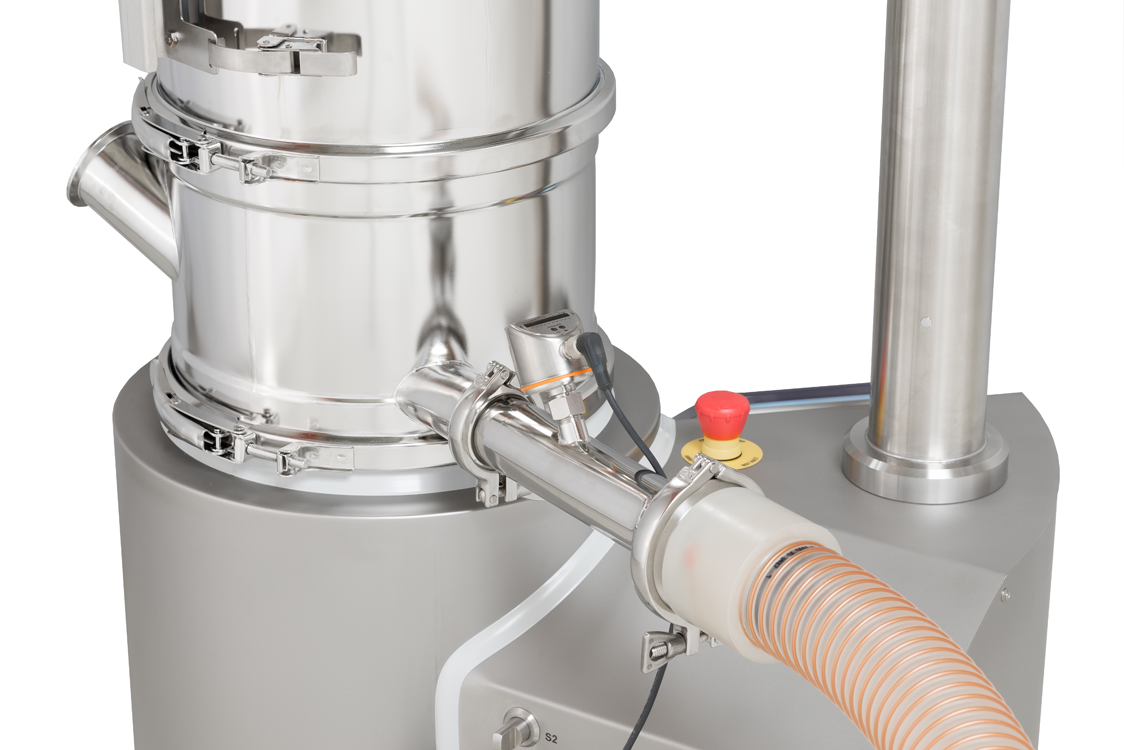 250-500-750-1000-1250-1500 mm
AISI 316L, silicone, PET-G, PUR
Ø6/4mm, 50-100 l/min (p=1.5-2 bar)
2" tri-clamp, 100-250m3/h (p=10-20 mbar)
Protection rating drive unit
Protection rating housing/controller
Ceia THS/PH21 N DT , Lock Insight DT
Metaldetector sensitivities
Ceia SS316L=0.40 / FE=0.25 / N-FE=0.30 , Lock SS316L=0.50 / FE=0.30 / N-FE=0.35
Processing of tablets (var. forms ) Ø3-35 mm
Processing of mini/micro-tablets Ø1.5-3 mm
Processing of effervescent tablets Ø25-35 mm
Processing of capsules Nr. 4-00
Conveying speed mini/micro-tablets <Ø2.5 mm
Conveying speed tablet Ø5 mm
Conveying speed tablet Ø13 mm
Conveying speed tablet Ø20 mm
Conveying speed tablet Ø25 mm
Conveying speed tablet Oblong 16.3 x 7.6 x 5.7 mm
Explosion protection ATEX 94/9/EG
Option air extraction adapter
Option mini/micro-tablets
Option metal detector test tablet insert device KT2010
Option 4 way drain valve system (drain/air exctraction/return)
Option empty capsule sorter KCS10
Option 2-way diverter manual KV2010 DT/WIP
Option 2-way diverter auto KV2020 DT/WIP
Option 2-12-way diverter auto V40000-V5000 DT/WIP
Option filling level sensors
Option air extraction monitoring
Option validation documentation
Option material certificates