High-end solutions tailored to your needs
KD7070
The knowledge and experience gained over the years allowed the development of another in a long line of Krämer firsts: The WIP deduster introduced in 2000. Pioneering innovations and continuous improvements to meet our customer's requirements have led to the new generation of KD70 WIP dedusters. They set another standard in high-containment (OEB5) in the production of highly active and potent products.
Upward conveying range of 400 to 1600 mm
Controller can be placed either on right or left side to guarantee best possible operation
Quiet operation < 68 dB
Featuring an acceleration sensor that assures constant vibration, independent of the load / amount of tablets in the deduster
Vibration-free housing, patented drive unit
Compact design, minimum footprint
Easy assembly and disassembly, no tools are needed
Efficient manual or automatic Wash-in-Place cleaning
High-Containment for OEB5 (< 1 μg/m³) applications, including peripherals
Classification: Atex Zone II 2D/- Db 140 °C
Conveying heights
400-1600 mm
Conveying Capacity
up to 6,3Mio tph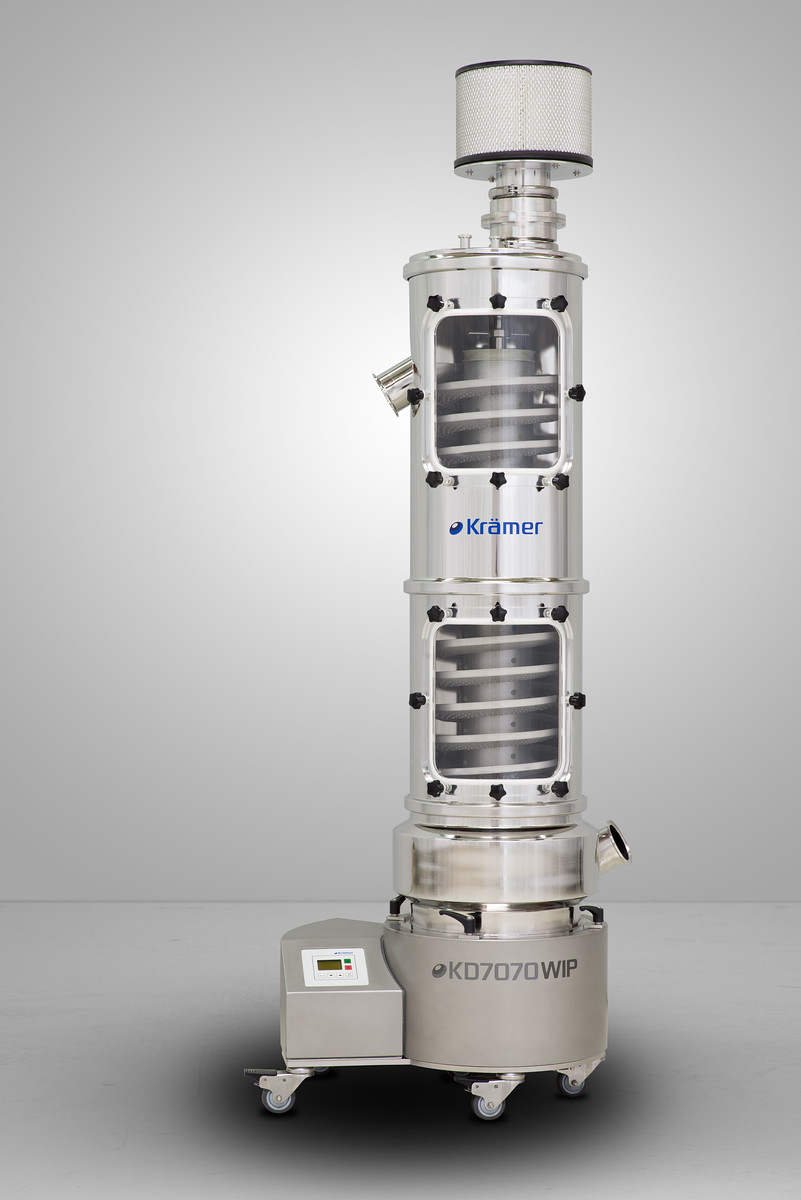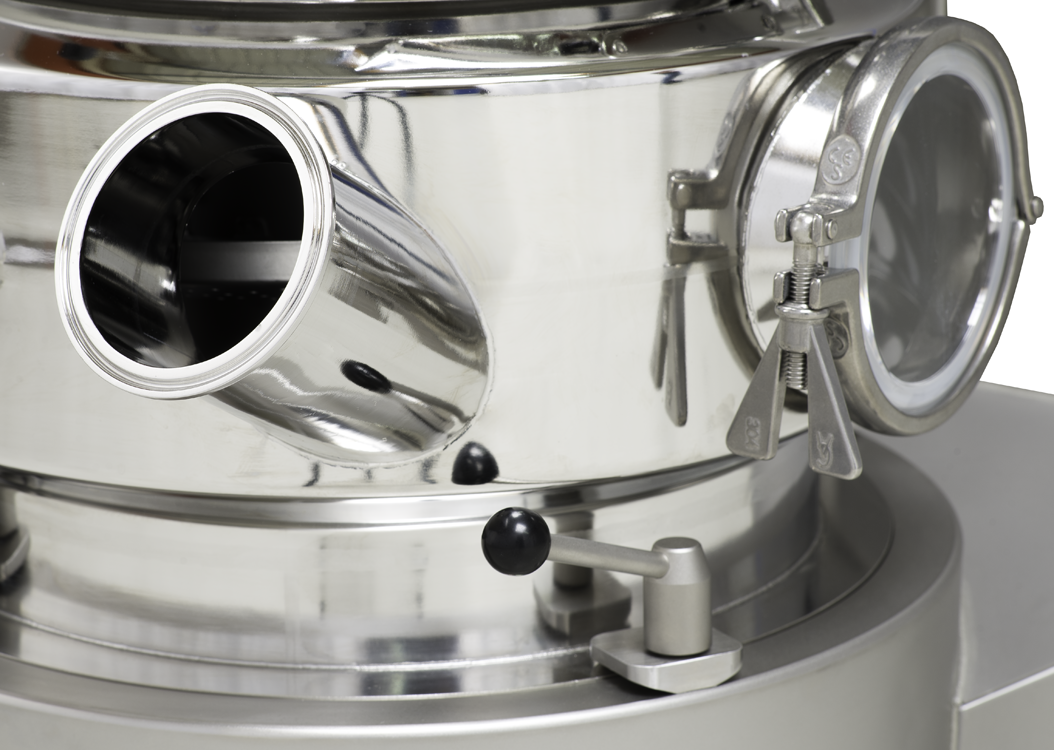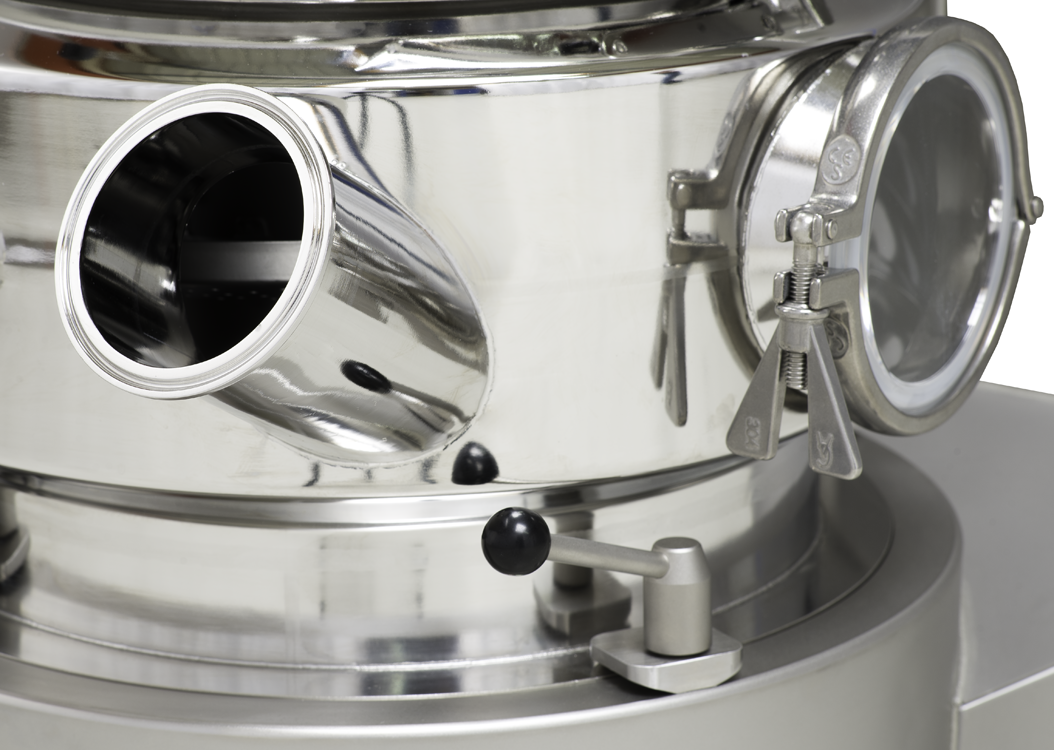 Tablet Inlet
The product inlet utilizes a Tri-Clamp flange for dust tight connections. The inlet can be rotated 360° independent of the outlet. With the use of optional inlet adapters, the deduster is easily adjustable to various tablet press discharge configurations.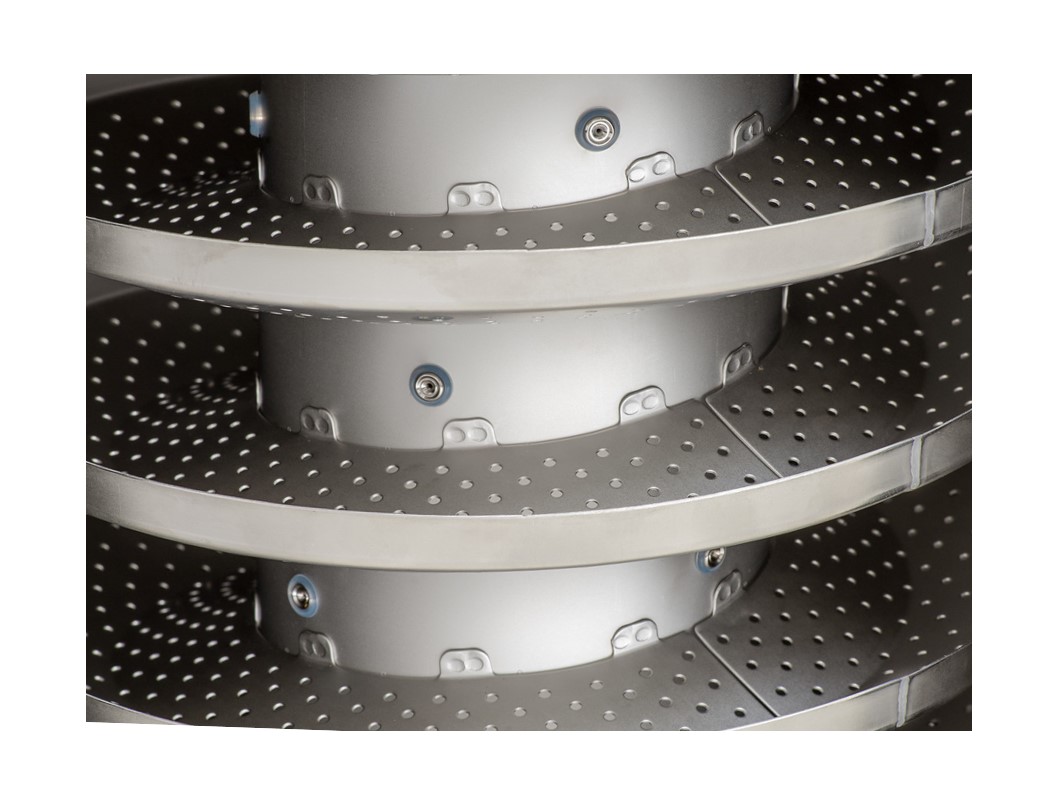 Helix
Helix with integral highly efficient washing nozzles for minimal water usage, less than 50 l/min. Innovative water supply through helix center column. Modular helix for easy assembly and disassembly, no tools are needed. Helix is capable of handling tablets from diameter 3-35 mm as well as all sizes of capsules.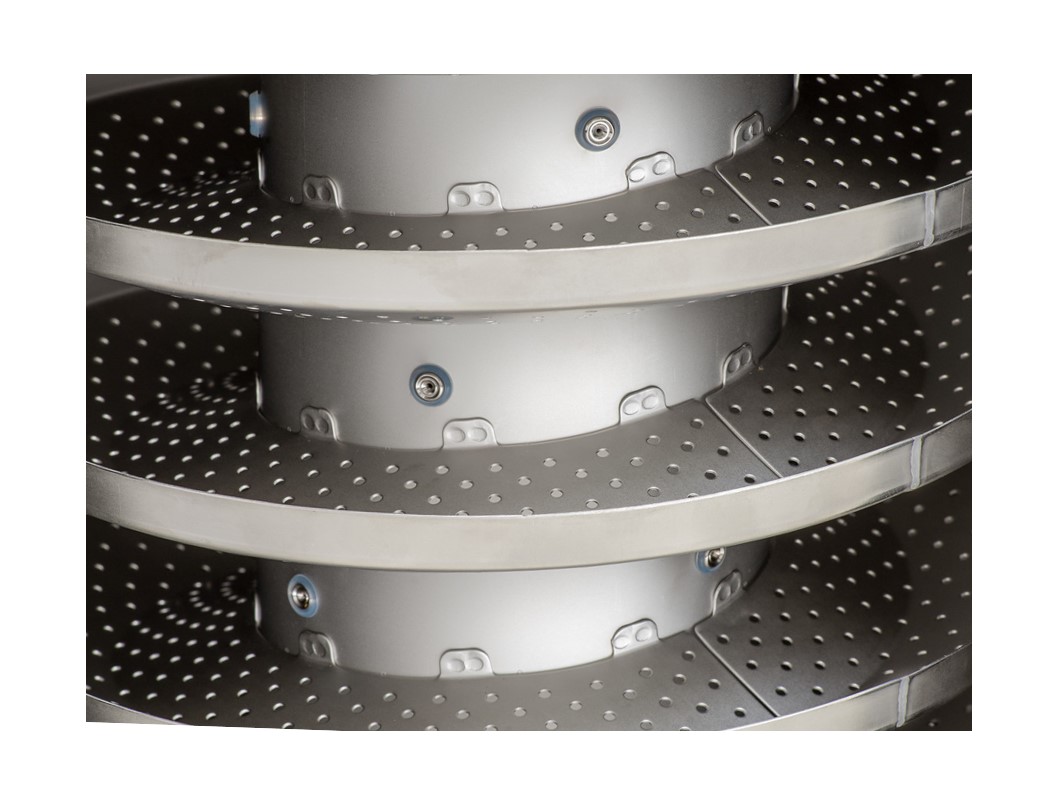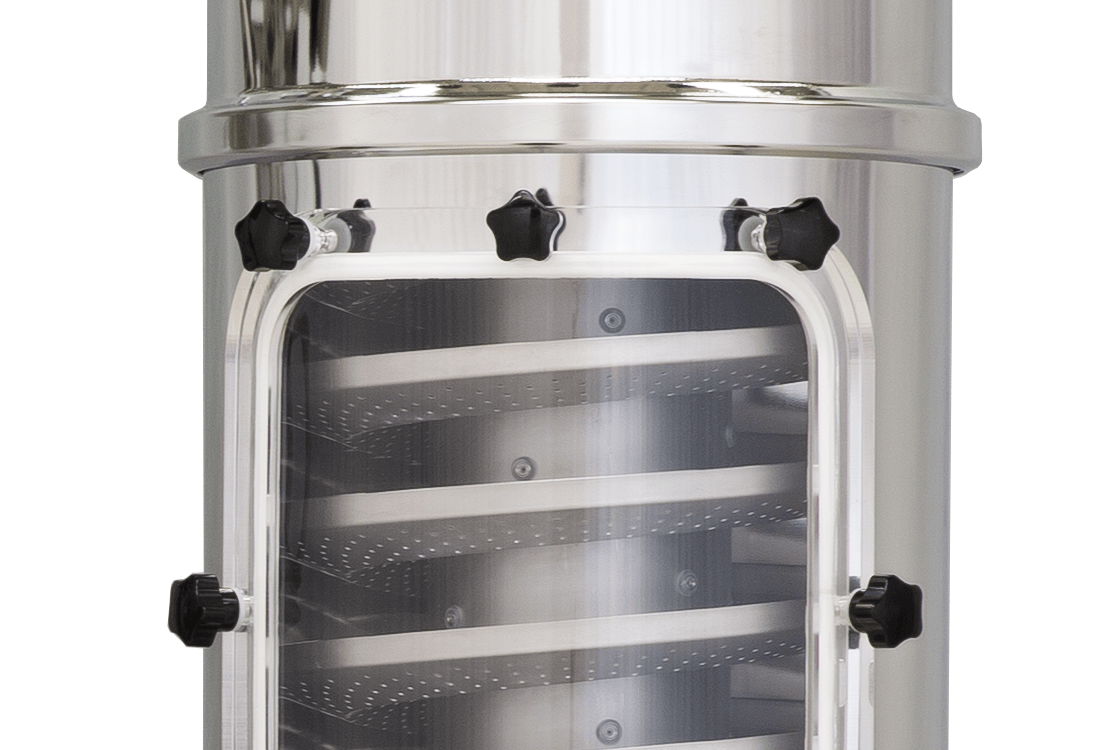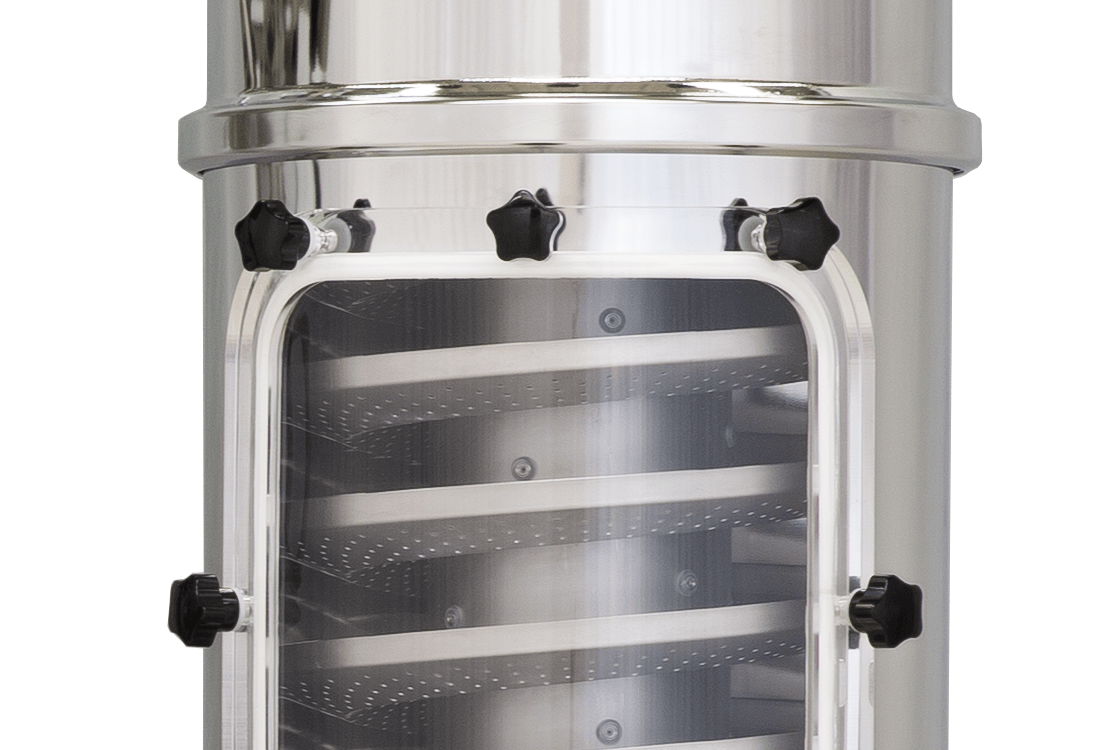 OPTIMAL AND SECURE PROCESS INSIGHT
The KD7070 deduster has a dust-proof and removable PETG window for optimal process insight. The window is sealed against dust and water in order to meet the requirements for hazardous dusts OEB 5. The window allows easy access for easy removal of the helix for cleaning.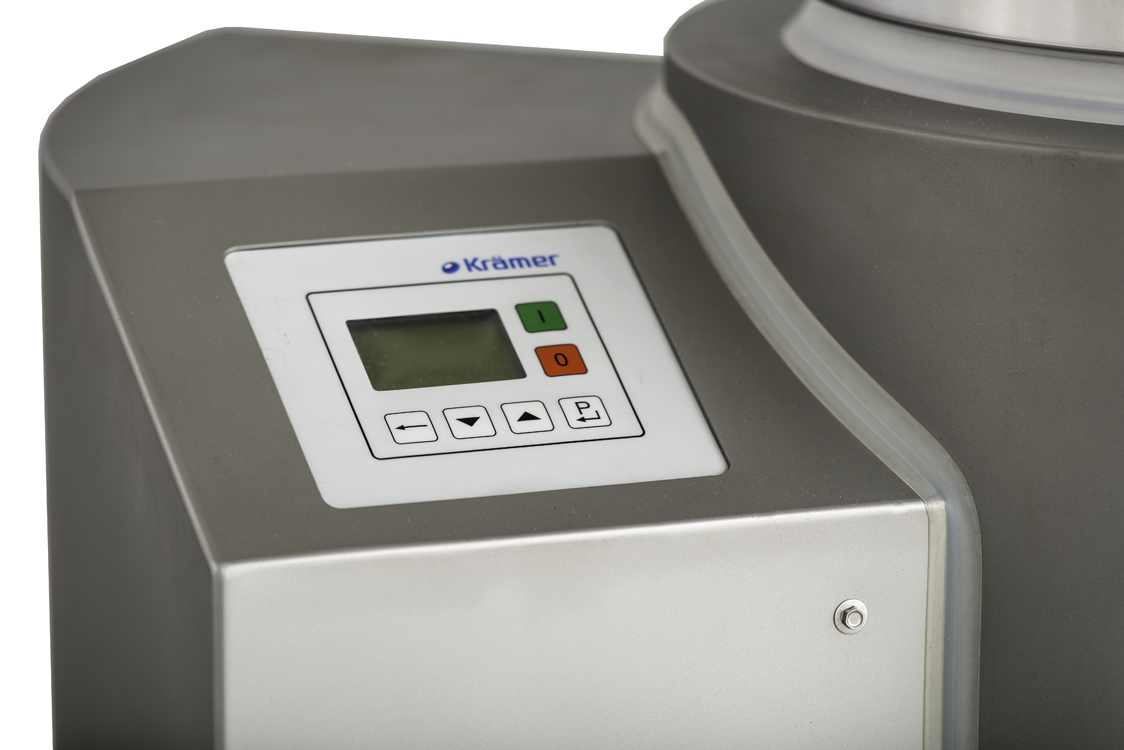 Easy to use control panel
The KD7070 utilize the KC7020 frequency controller. The KC7020 utilizes an acceleration sensor in the drive to determine the optimum operating frequency for ease of operation. The LCD screen allows the operator to turn the machine on and off, and to chose the necessary conveying speed to operate with the press. The KC7070 remote operation feature allows for connection and operation through the press controls if so equipped.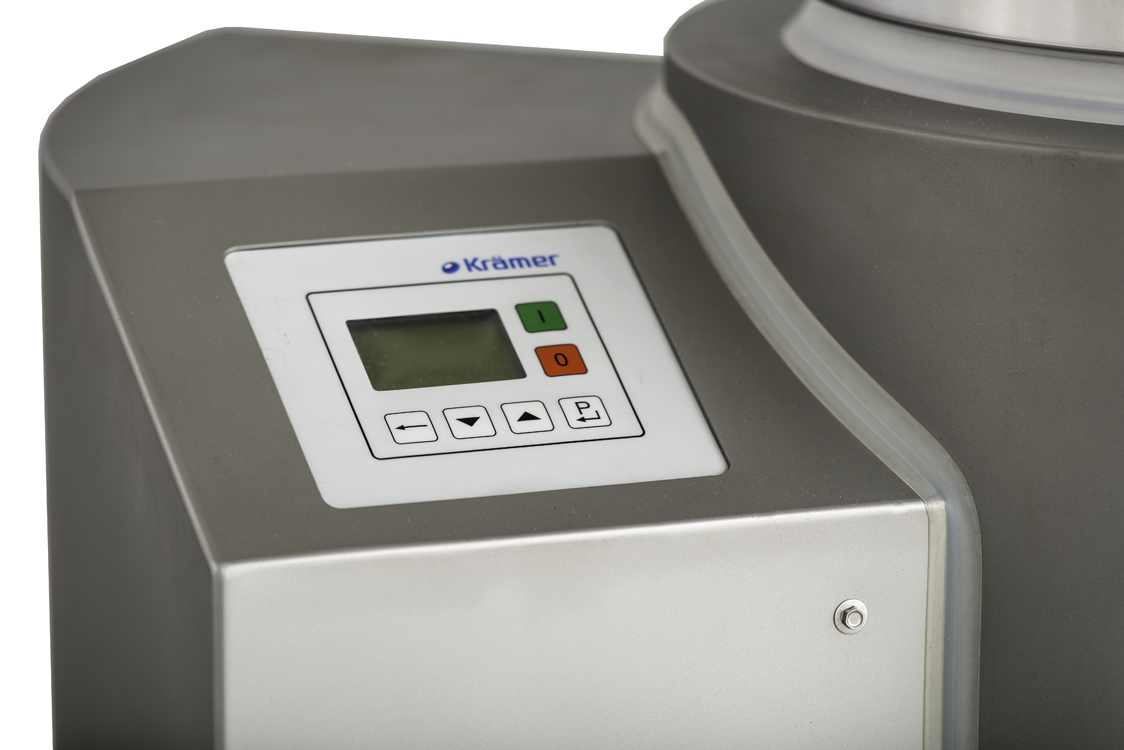 Filter
The optional HEPA filter class H14, manually actuated, ensures the highest safety for the operator.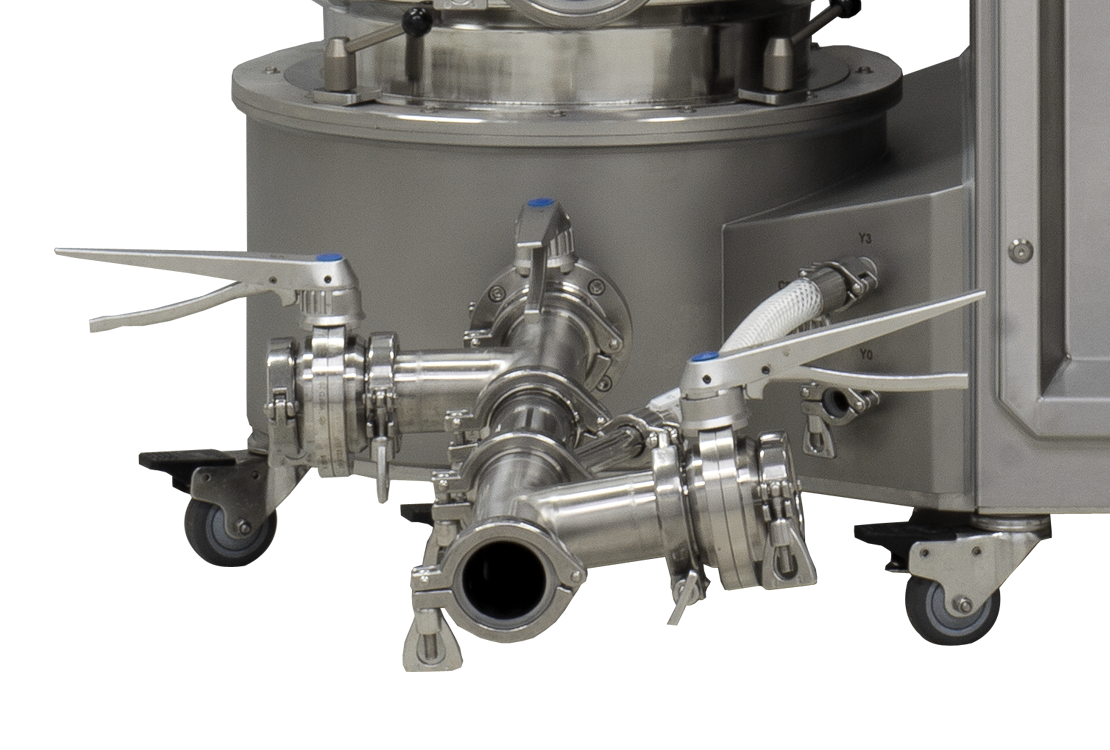 Drain Valves
The optional 4 way drain valve system can be manually actuated allowing for easy handling of the dust collection and water drain.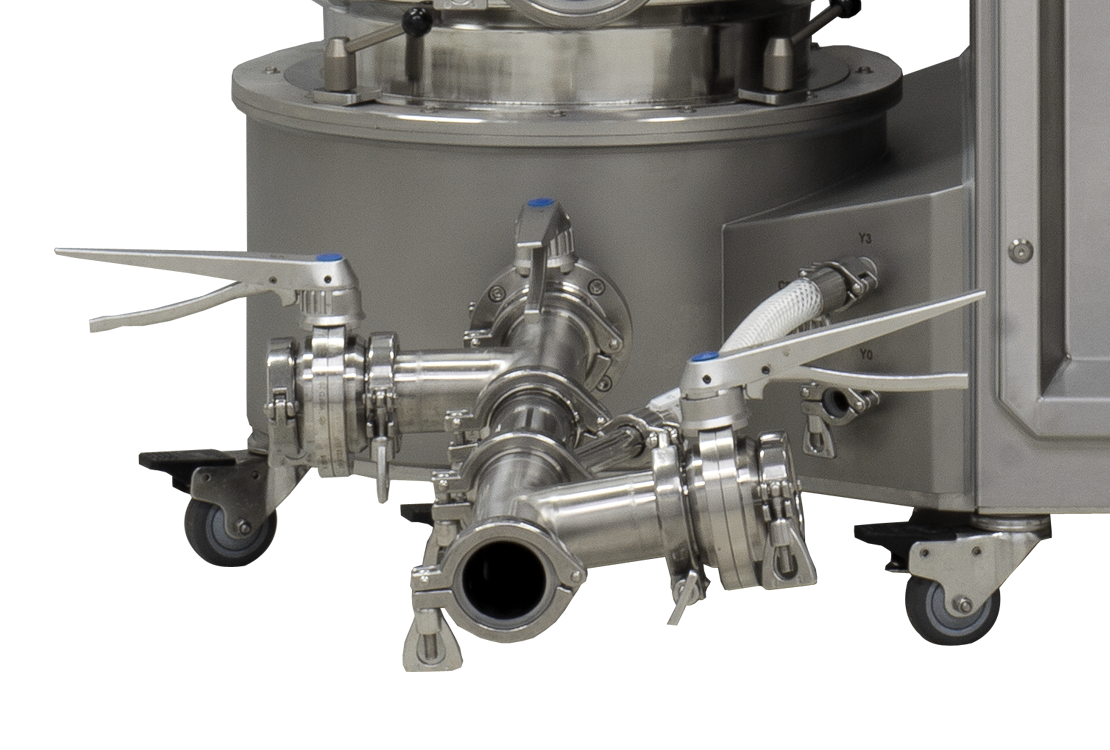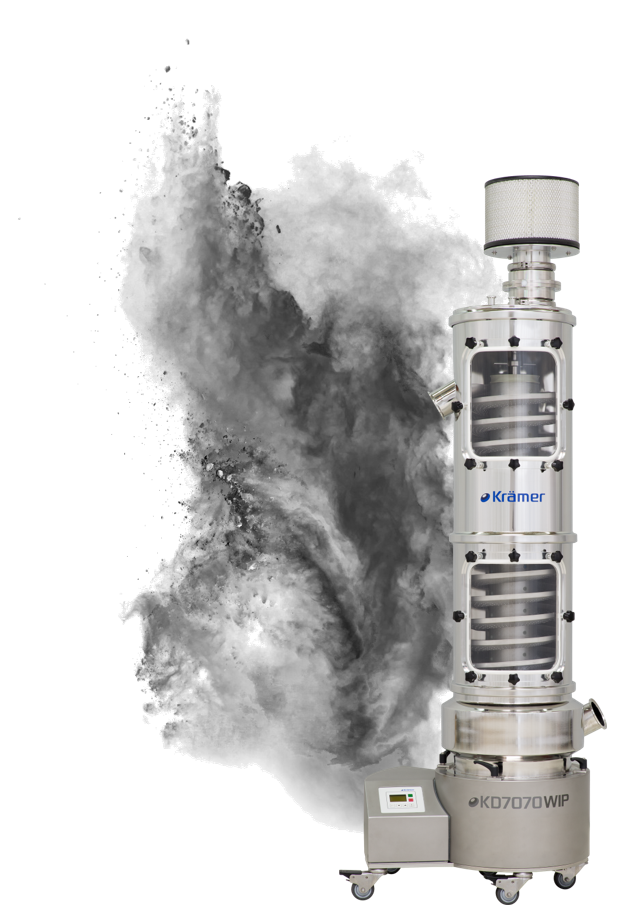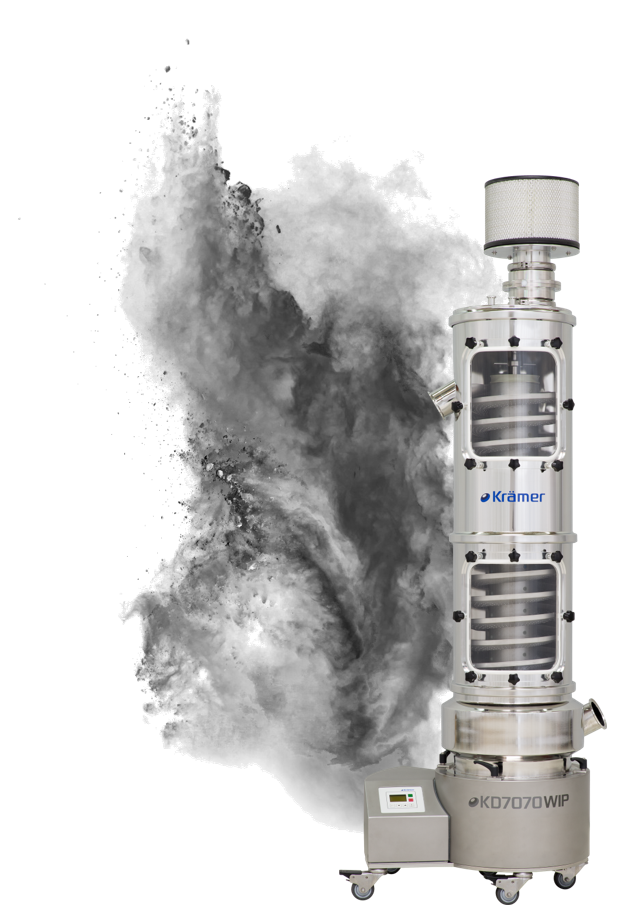 CONTAINMENT AND ATEX PERFORMANCE
The KD7070 deduster has been independently tested and certified to meet OEB 5 containment levels in accordance with ISPE – SMEPAC requirements as well as the EC Machinery Directive 2006/42/EC and Directive 94/9/EC (ATEX-95).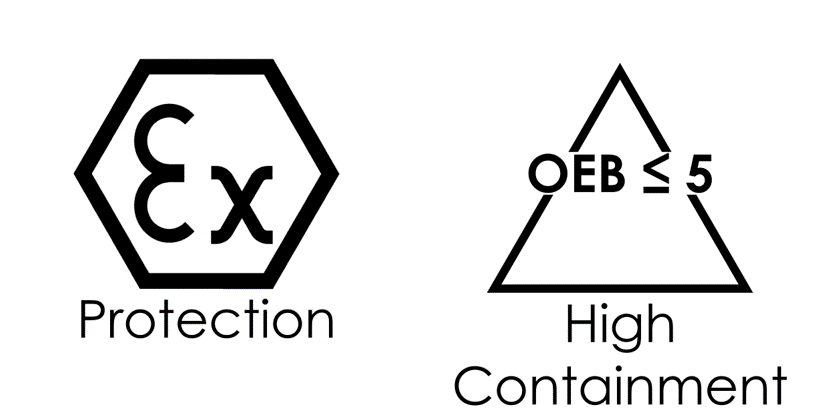 AISI 316L, silicone, PET-G, PUR
Ø6/4mm, 50-100 l/min (p=3-6 bar)
2" tri-clamp, 100-250m3/h (p=10-20 mbar)
Protection rating drive unit
Protection rating housing/controller
Backlit LCD Screen with touchpad
Processing of tablets (var. forms ) Ø3-35 mm
Processing of mini/micro-tablets Ø1.5-3 mm
Processing of effervescent tablets Ø25-35 mm
Processing of capsules Nr. 4-00
Conveying speed mini/micro-tablets <Ø2.5 mm
Conveying speed tablet Ø5 mm
Conveying speed tablet Ø13 mm
Conveying speed tablet Ø20 mm
Conveying speed tablet Ø25 mm
Conveying speed tablet Oblong 16.3 x 7.6 x 5.7 mm
Conveying speed capsule size Nr. 4
Conveying speed capsule size Nr. 3
Conveying speed capsule size Nr. 2
Conveying speed capsule size Nr. 1
Conveying speed capsule size Nr. 0
Conveying speed capsule size Nr. 00
Explosion protection ATEX 94/9/EG
Option air extraction adapter
Option mini/micro-tablets
Option metal detector test tablet insert device KT2010
Option 4 way drain valve system (drain/air exctraction/return)
Option empty capsule sorter KCS10
Option 2-way diverter manual KV2010 DT/WIP
Option 2-way diverter auto KV2020 DT/WIP
Option 2-12-way diverter auto V40000-V5000 DT/WIP
Option filling level sensors
Option air extraction monitoring
Option validation documentation
Option material certificates