Product news
We are connecting Krämer to China, new Chinese website
read more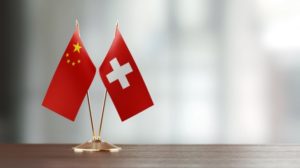 In order to share our continuing innovation that has made Krämer the worldwide leader in tablet dedusting we have launched the Chinese homepage.
We are always building on our experience to develop innovative products for the future and we are happy to share this with the Chinese marketplace.
We invite you to explore our new Chinese website and product range!
Article in "Tablets & Capsules"
read more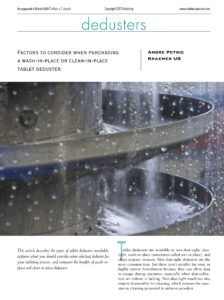 The magazine "Tablets & Capsules" has released an article about Krämer in their March edition. It is available for download in our download section or under the following link:
Download Tablets & Capsules_March_2019.pdf
Customized solutions
read more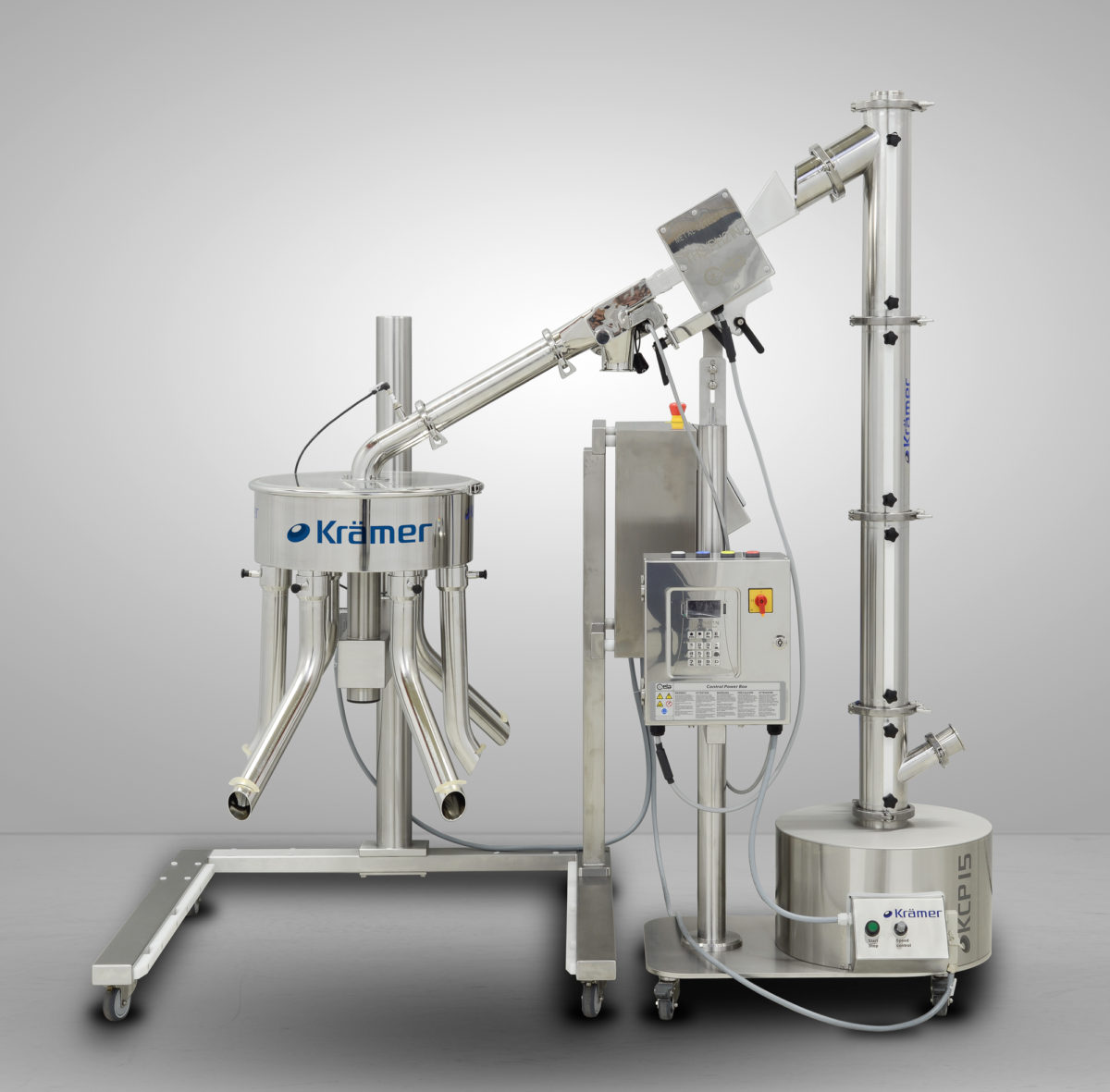 Kramer strives to satisfy our customers project needs by being flexible in our designs.
Our engineering group has developed many customized solutions to fit very specific tablet deduster and capsule polisher project requirements.
Thanks to one of these customized solutions, it is now possible to fill up to twelve different bins with polished capsules.
If you are interested in a customized solution, do not hesitate to contact us.
New ATEX classification
read more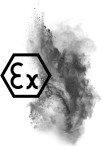 The pharmaceutical industry often handles products which can create dust environments that are combustible and can form an explosive atmosphere when mixed with oxygen.
In case of ignition of this atmosphere, explosions can occur which can have serious consequences for people, and property.
For Kramer as a machine manufacturer, this means that our deduster and capsule polisher designs take into account all possible operational scenarios, eliminating any ignition sources. This is the reason why Kramer is constantly striving to maintain and keep up-to-date all safety requirements.
Through our innovation and forward-looking vision, we have achieved a new standard in ATEX certification, which makes Kramer machines even safer and more stable than before.
The new ATEX classification* Zone 21  II 2D/- Db 200 °C  is fulfilled by following machine types KCP Series, KD70 DT Series und KD70 WiP Series.
* if the products conform to the safety characteristics described below, the interior of the machine is suitable for use in potentially explosive areas of Zone 21. The installation area of the machine is zone-free.
Continuous-in-Process Controls made easy
read more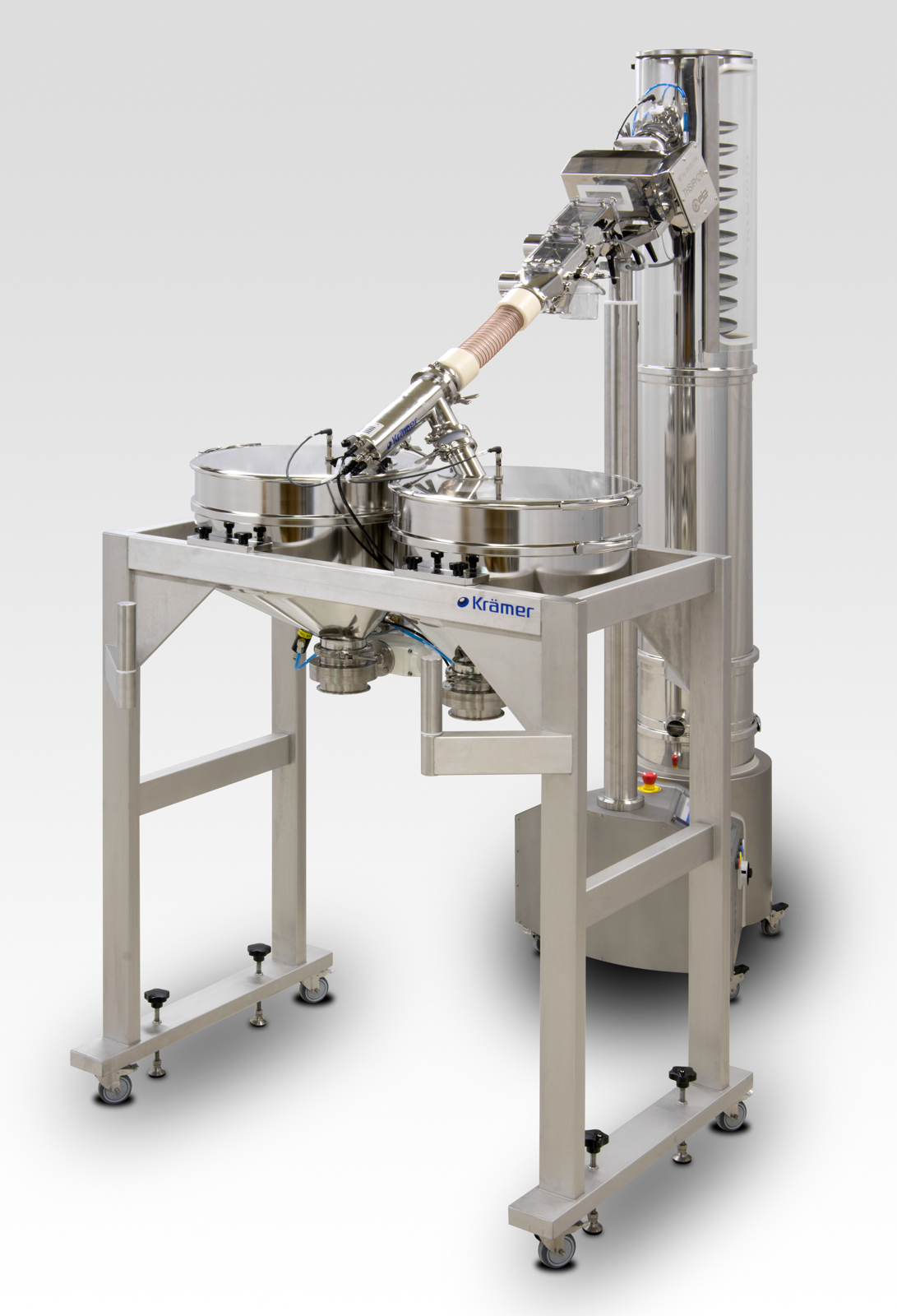 In process controls (IPC) are essential in the production of tablets and capsules in order to maintain high quality. During the production process samples are taken to determine tablet quality parameters, such as weight, hardness, thickness and diameter in regular intervals. This test is carried out either close to the tablet press / capsule filling machine, or after de-dusting.
Since this testing takes time and in order to segregate in process tablets from being loaded into the large volume batch intermediate bulk container (IBC) while the testing has verified these parameters, Krämer has developed a filling system, consisting of one or two intermediate surge hoppers, available in different volumes. Thanks to this solution the production process, in the event of non-performance of a quality characteristic, will not be automatically loaded into the IBC. The rejects are limited to the contents of the surge tank and therefore only a fraction of the entire production lot. The system can be combined with all KD70 series dedusters. For the version with two containers, the manual 2-way diverter KV2010 or automatic 2-way diverter KV2020 can be used. At the outlet of the surge hopper a special 4" tri-clamp tablet valve with silicone flap allows smooth feeding of the product into the IBC. Optionally, the levels of the surge hopper can be monitored by means of sensors. The control of the system can be operated either through integrated Krämer controller or via the tablet press / capsule filling machine.
New website launched on our 40th anniversary
read more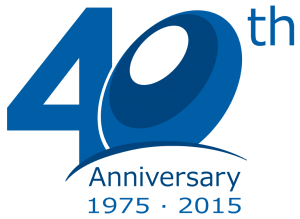 Krämer AG is celebrating its 40th anniversary!
To celebrate our anniversary we launched a new website.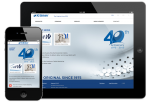 Design
A new and fresh design helps you easily find your way around the site on any device.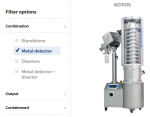 Product filter
Choose the right machine for your application using our new filter. After selecting the attributes required, you can easily flip through the recommended products using the arrows on the right and left side of the screen.
Past & Future
40 years after we invented the very first deduster E79 Krämer proudly looks back on countless innovations in the field of dedusting. Have a look at a selection of them in our history.

We are always building on our experience to develop innovative products for the future. We started our 40th year with the introduction of an upward conveying capsule polisher KCP, continuing the innovation that has made Krämer the worldwide leader in tablet dedusting.

To get a picture of our products you can visit us on one of the exhibitions listed in our new sector for trade shows & events.
Article in "Tablets & Capsules"
read more
The magazine "Tablets & Capsules" has released an article about Krämer in their September edition. It is available for download in our download section or under the following link:
Krämer launches Capsule Polisher
read more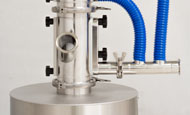 The new Krämer capsule polisher KCP will elevate, polish and dedust any size of capsule.
The rotational spiral brush designed specifically for capsule applications polishes gently and removes excess dust. The perforated housing allows ideal aspiration of the dust. The device outlet can be fitted with peripherals such as metal detectors, empty capule sorters, diverter switches and slides.
Go to products
Krämer launches new line KD70 WIP
read more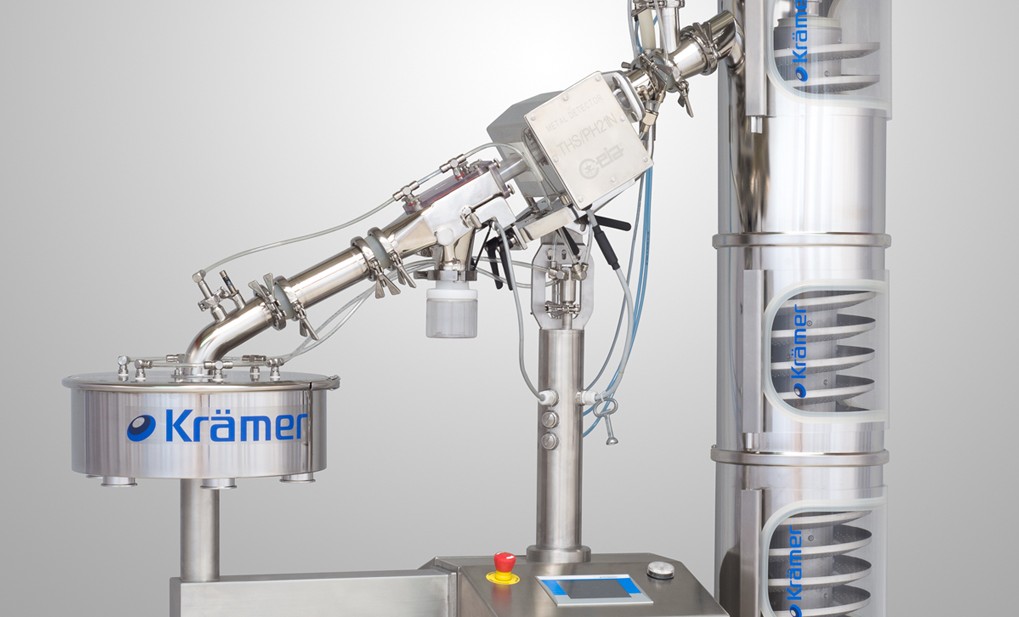 The knowledge and experience gained over the years allowed the development of another in a long line of Krämer firsts: The WIP deduster introduced in 2000. Pioneering innovations and continuous improvements to meet our customer's requirements have led to the new generation of KD70 WIP dedusters. They set another standard in high-containment (OEB5) in the production of highly active and potent products.
Typical for the KD70 line, the controlling of deduster and peripherals and now  also the programming of the washing sequences are done over one single, user friendly touch-screen.
Go to products
Krämer releases new App
read more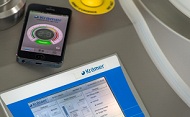 Krämer has developed a free app for mobile devices to help determine the proper operation of Krämer dedusters excluding models E79, E80 and E92 which are the oldest versions of Krämer dedusters. The app is another in the long line of Krämer tablet deduster innovations.
This handy diagnostic tool senses whether the vibration of the deduster housing is within the proper limits. Use this app to help determine if your Krämer Deduster is running properly. Excessive housing vibration can be an indication that service is required. If the app meter needle stays within the Green zone no service is required, if in the Yellow zone service should be done in the near future, and if in the Red zone service needs to be done immediately.
The Krämer Vibration Meter App. Is optimized for iPhone 5, 5S, 6, 6S, and works with iPhone 4, 4S, and select Android phones.
Go to the Apple store and search for "kraemer" or the Google store and search for "kraemer" to access this handy free troubleshooting app.
Access can also be gained through the following links:
For Apple: http://itunes.com/apps/kraemermeter
For Android: https://play.google.com/store/apps/details?id=com.kramer&feature=search_result#?t=W251bGwsMSwyLDEsImNvbS5rcmFtZXIiXQ
Krämer launches two new product lines
read more
Being the pioneer in dedusting, Krämer has developed the next generation of systems catering to all your needs in dedusting, conveying, metal-detection and distribution/handling of tablets and capsules.
Both lines are available as stand-alone or combined units, with immediate effect.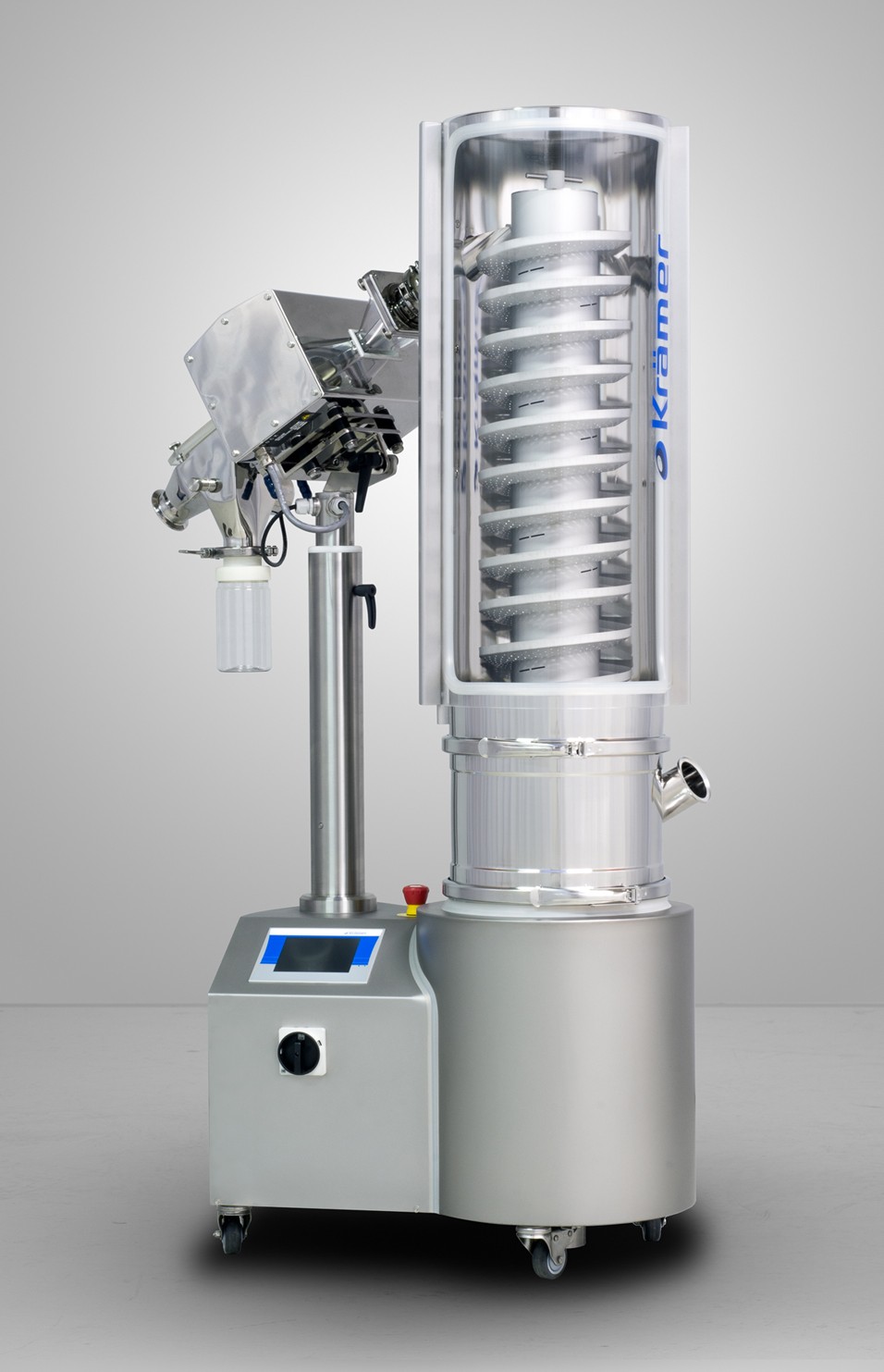 KD 7010/7015:
Gain efficiency through using break-through technology, with the first-ever truly integrated controller for the deduster and all peripheral equipment. User-friendly interface, operated with one single touch-screen. Stepless telescopic height adjustment with full 360o of rotation. Unmatched dedusting and conveying performance in a vibration-free housing, combined with Swiss reliability.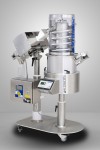 KD 6010/6015:
Superior performance based on robust and proven technology, with a track record of many years.  This line also profits from the acceleration sensor that assures a constant vibration of the helix, independent of the load of tablets in the equipment. All you need in a compact design, based on a minimum footprint. Full visualization of the process during all times of the production run.
Go to products
Various Helix surfaces
read more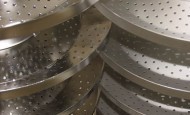 Select helix according your tablets to achieve optimum results. Passivated (standard), Electropolished or Teflon coated.